This naturally sweetened strawberry mint shrub is made with juicy seasonal strawberries, fresh mint, white balsamic vinegar, and honey! It's a brilliant bright and tart base for refreshing drinks that you'll enjoy all summer long. Plus! With this post I'm teaming up with Saffi Foods to give away an incredible line up of their DELICIOUS oil's and vinegars! Read on to get the scoop and snag your entry! ⬇
*GIVEAWAY NOW CLOSED*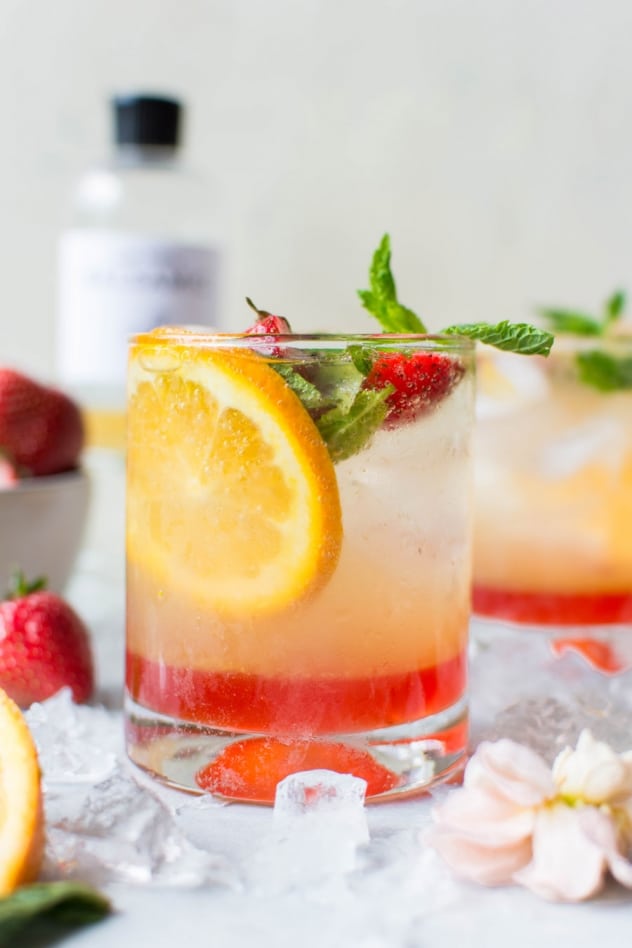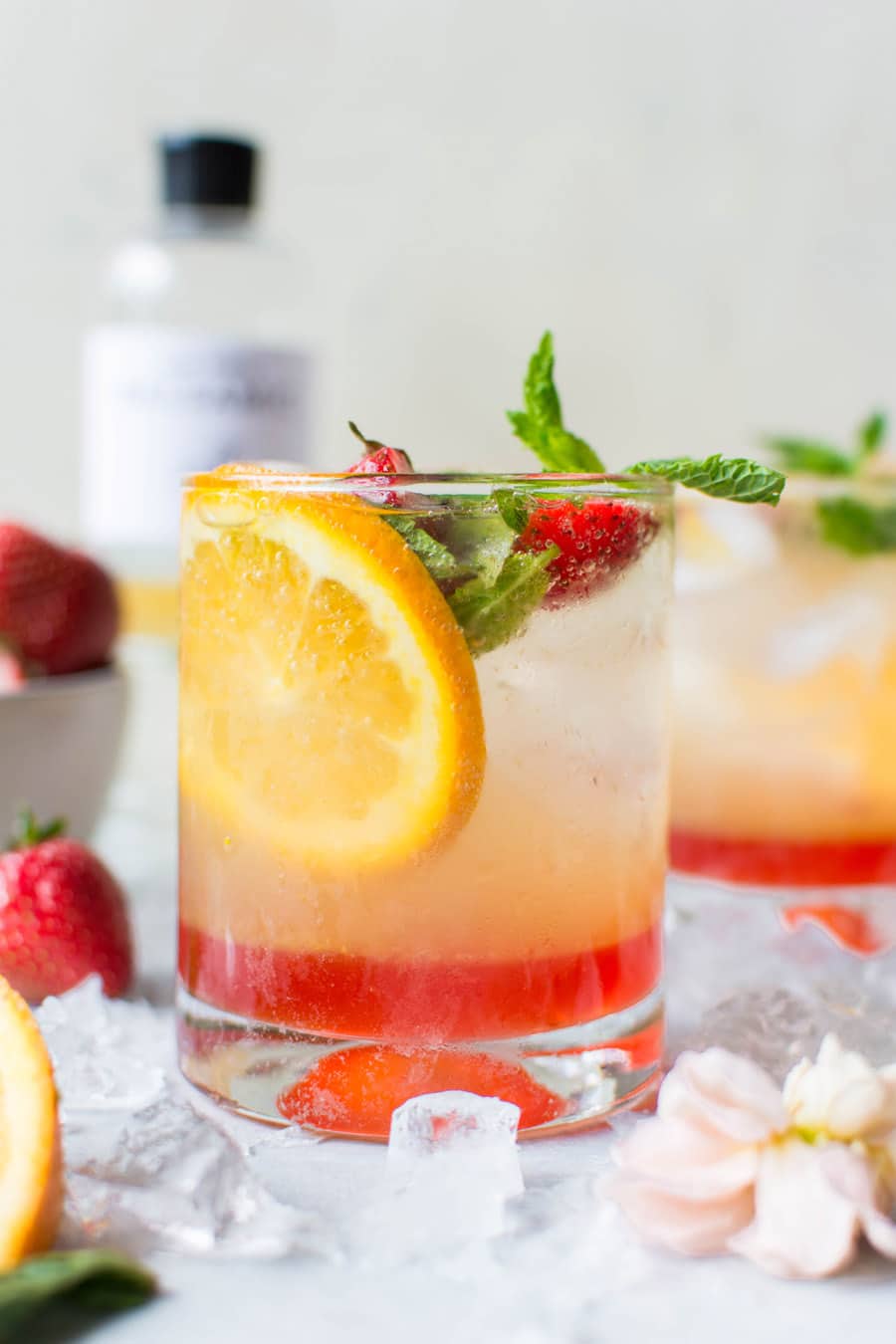 You guyssss! It's officially summer (Insert happy dance here) 🙂
It always feels like summer is real when my number one priority becomes finding and enjoying allllll the delicious drinks. Who can relate? IMHO yummy drinks = one of life's greatest joys. Especially during the heat of the summer 🔥
Give me sparkling water with a big ol' wedge of lemon, fresh pressed juices every color of the rainbow, maple sweetened vanilla cold brew by the gallon (finally this year-round-cold-brew drinker can enjoy it without all the weird looks! 😛) and I am happy as can be.
And because of that stunner of a drink right up there ⬆ I'm also definitely adding some refreshing vinegar based fruit shrubs to the mix this summer too
Have you guys every tried a fruit and vinegar shrub?!
They are SO good.
This naturally sweetened strawberry mint shrub is:

The PERFECT balance of tart + sweet
MEGA Refreshing
PACKED with juicy strawberry flavor
a SERIOUSLY pretty shade of ruby red (that matters, right?!)
I honestly don't know how you could not love it. Even P (my love), who is not at all a fan of anything remotely "vinegary" is super into it!
Basically what I'm trying to say is this shrub = summer hydration goals.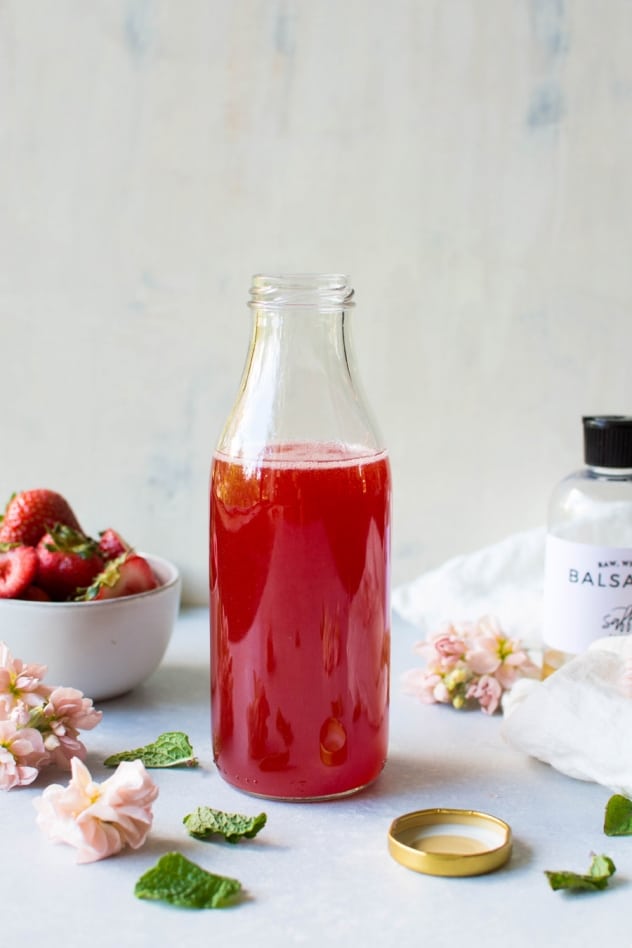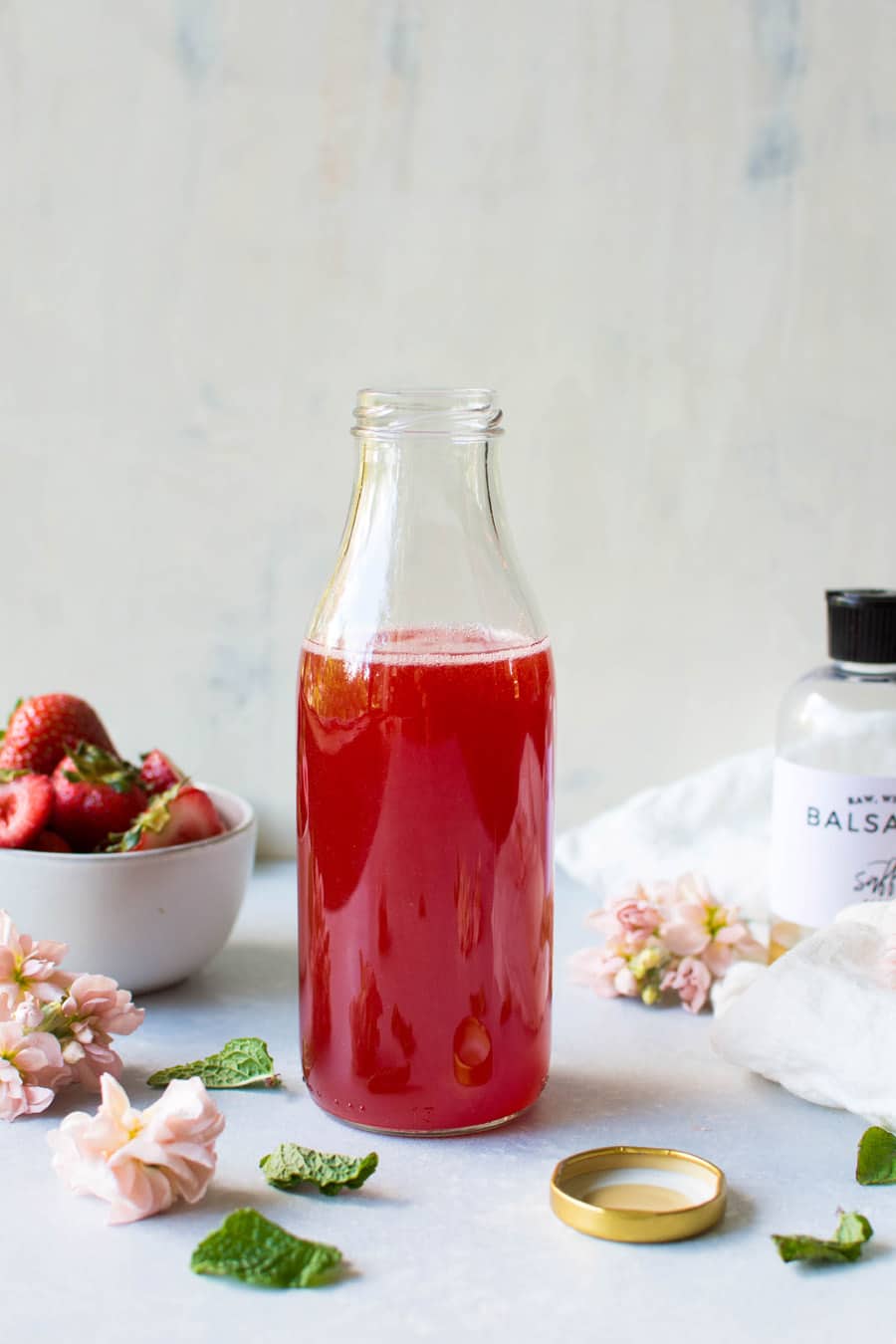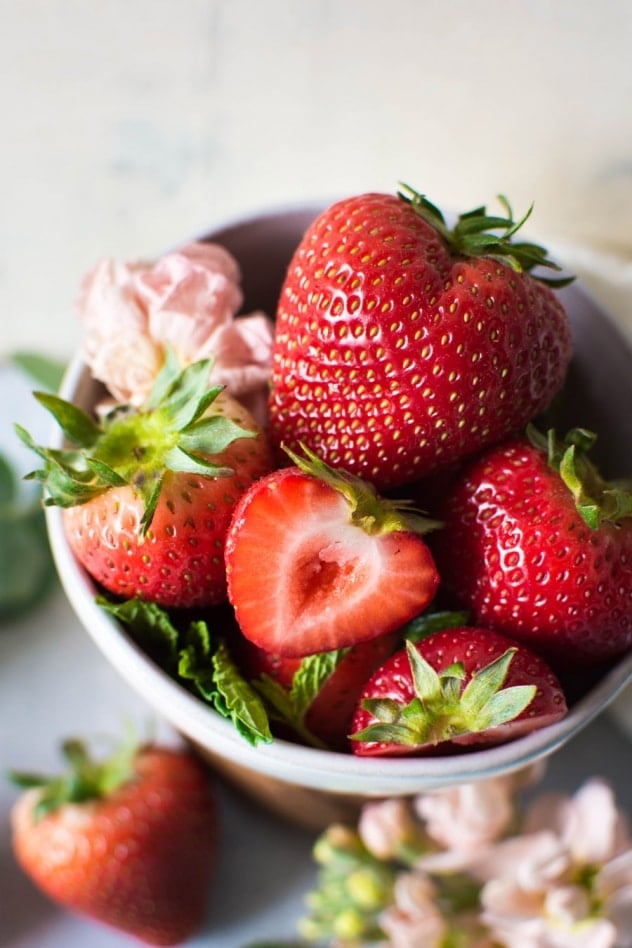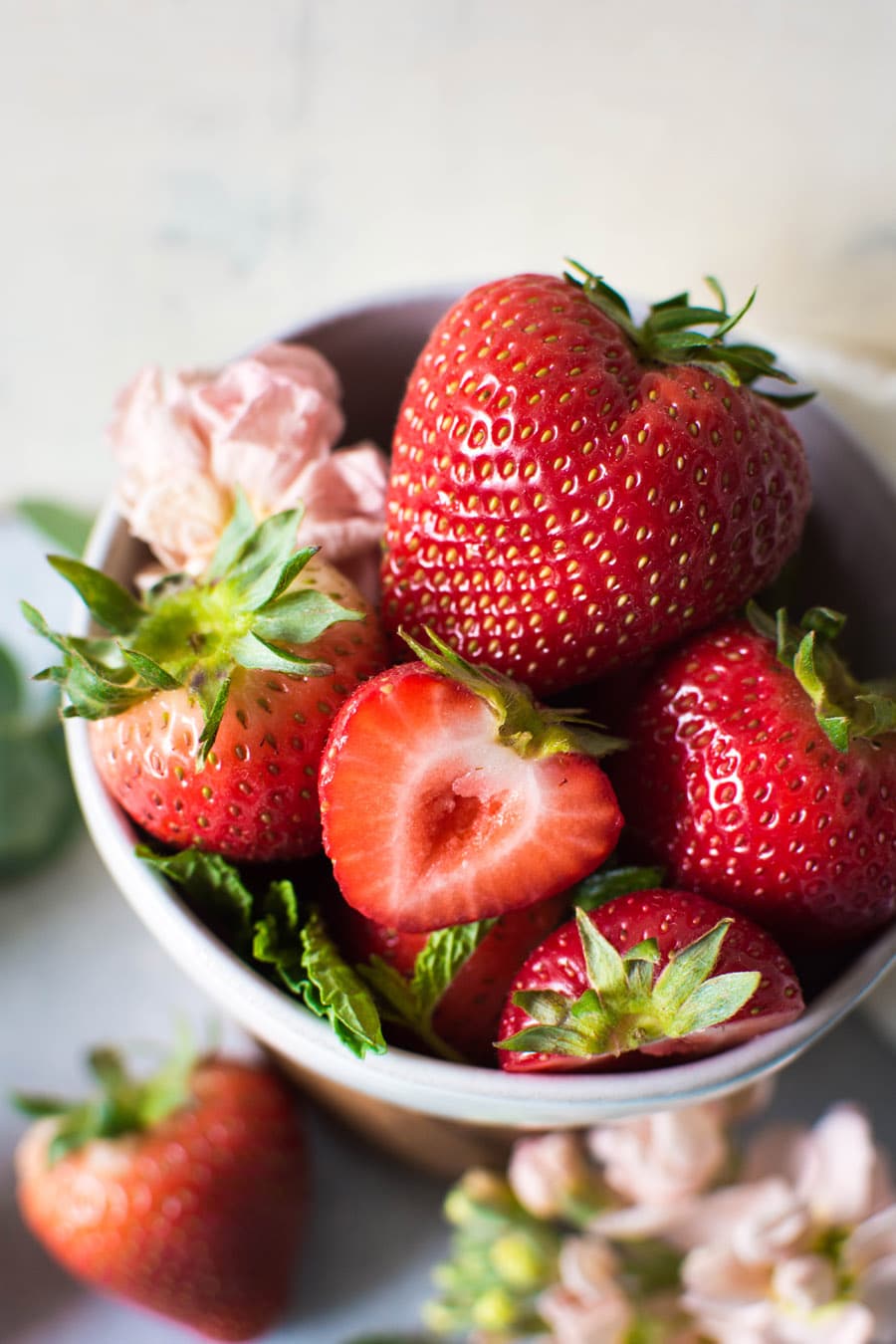 Let's start with the obvious question. What is a vinegar based fruit shrub?
Also sometimes called a drinking vinegar, a vinegar based fruit shrub is a perfectly sweet + tart syrup that is made with equal parts fresh fruit (or vegetable!), vinegar, and a sweetener (<– typically sugar, but today we're using honey for a natural option)
1 lb of fruit + 1 cup of vinegar + 1 cup of sweetener = the winning formula.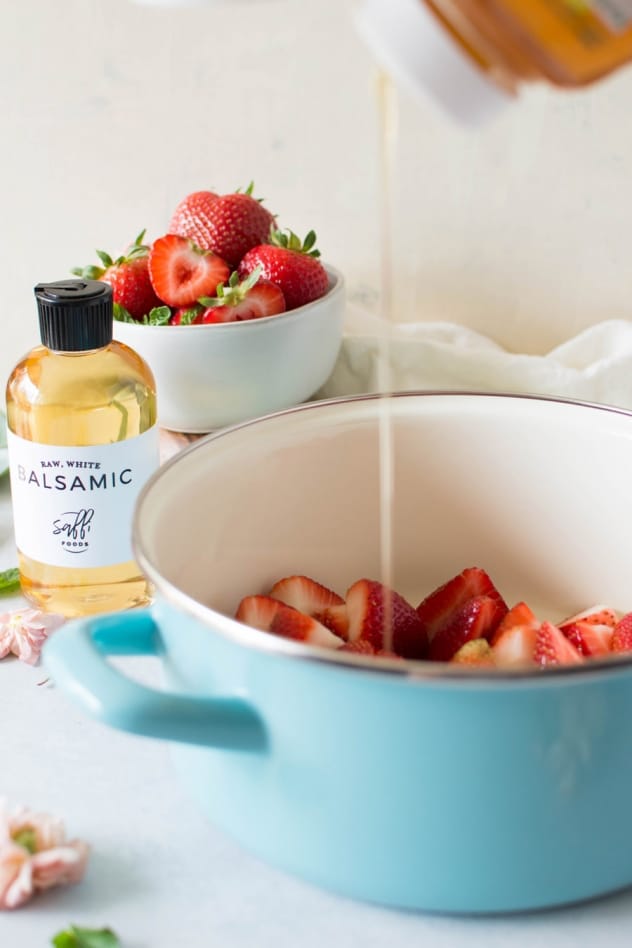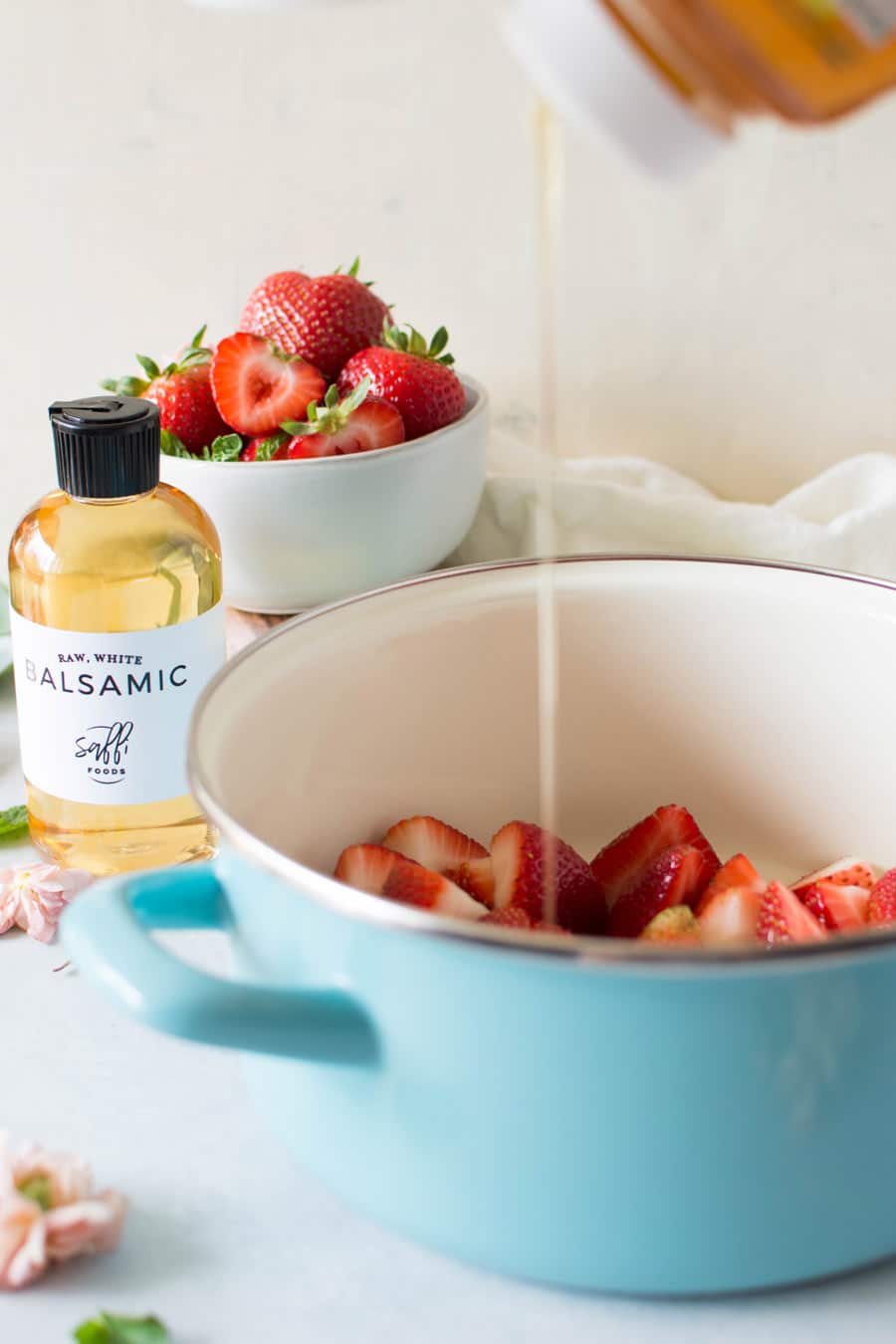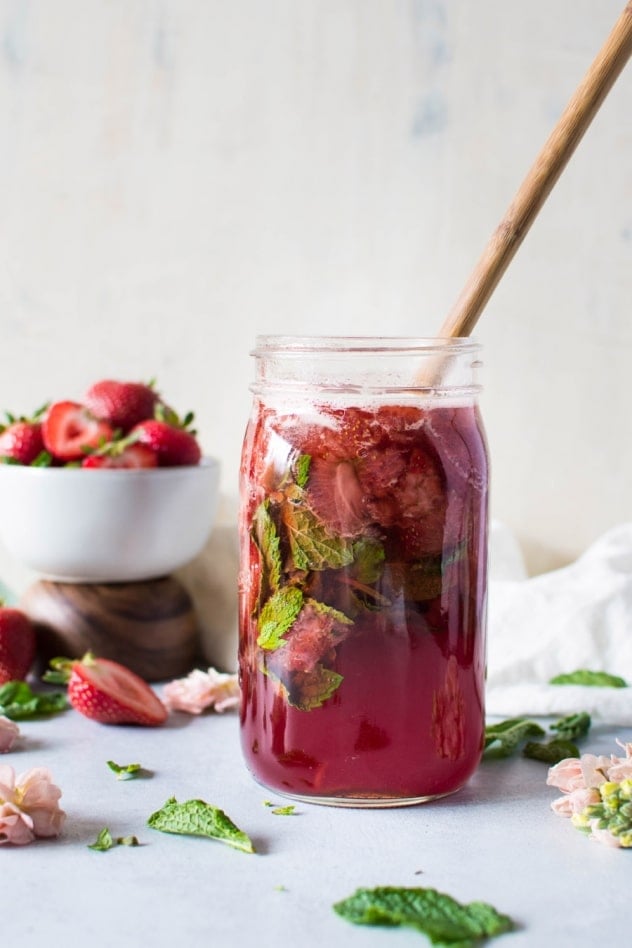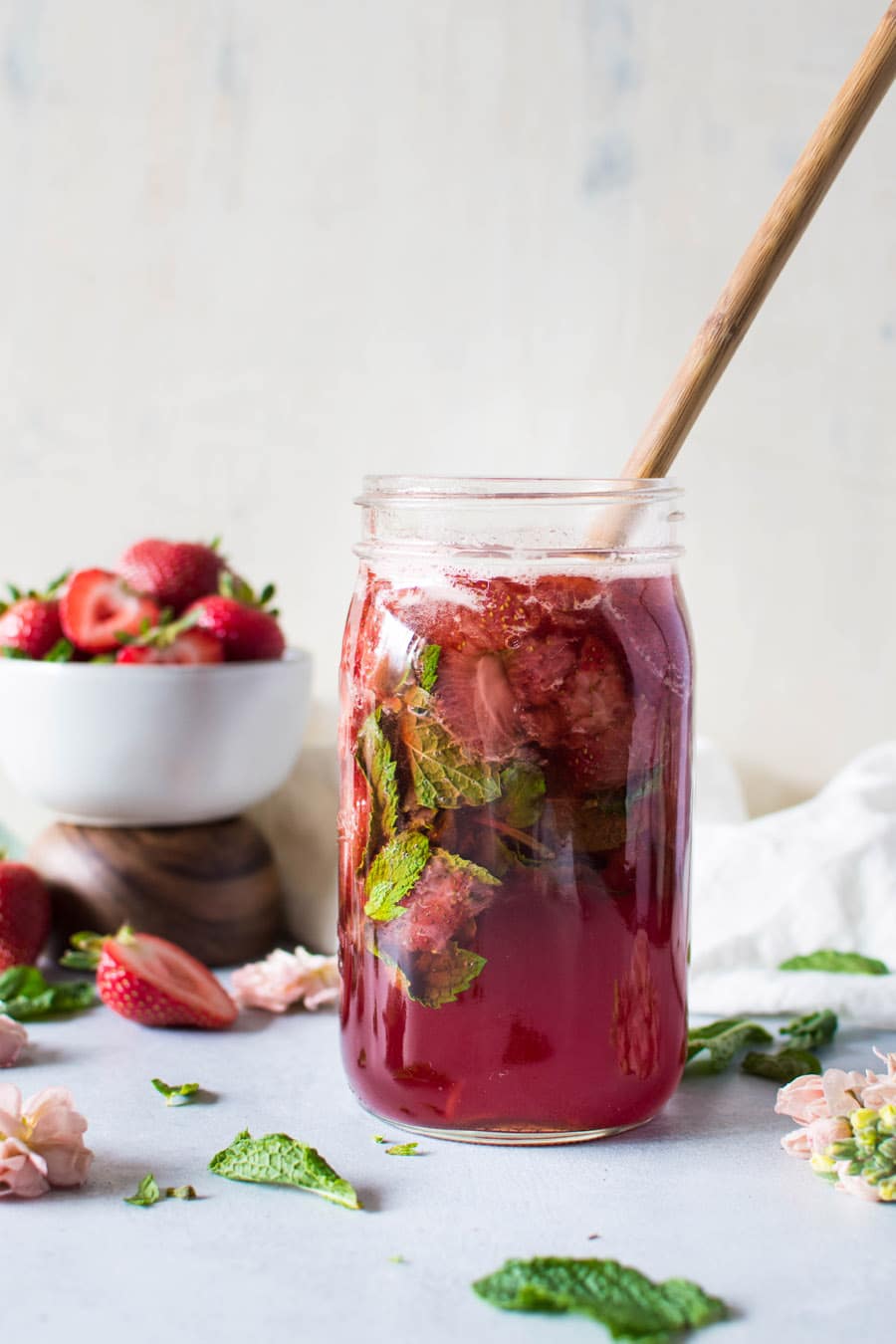 A few ounces of this strawberry mint shrub is THE PERFECT compliment to a tall glass of bubbly seltzer water. It also makes an excellent addition to cocktails, and can even be added to your salad dressing in place of your usual vinegar / citrus juice!
A shrub can be made with either a hot process or cold, or even fermented – a la this gorgeous summer recipe from my friend over at Bare Root Girl.
A hot process is the fastest way to whip up a batch, and works great with any fruit that you would make a jam or cobbler out of (berries, stones fruits, citrus etc). For more delicate fruits such as melon, mango or pineapple you would probably want to use a cold process. This takes a couple days, but is basically made using the same principle.
You can use any type of vinegar that compliments the flavor of the fruit you're using, but for the juicy strawberry and fresh mint combo I chose Saffi Food's white balsamic vinegar. It is literally a match made in heaven. The white balsamic vinegar is made form MOSCATEL GRAPES (😱!!!) and brings some serious floral and honeyed notes that take this little shrub to the top of the charts.
And just putting this out there into the universe, if shrub rating charts are a thing, I definitely want to be on that panel of judges.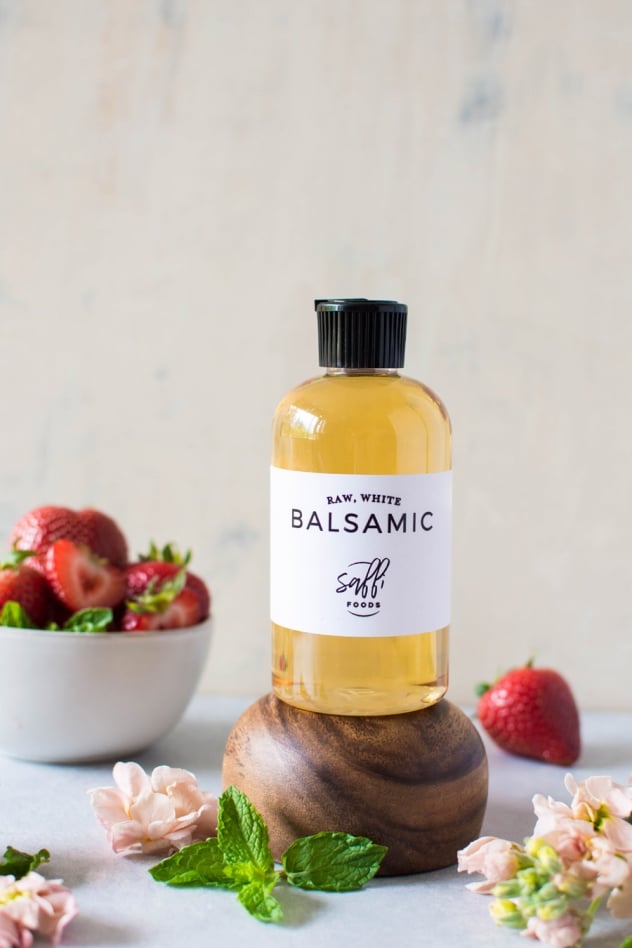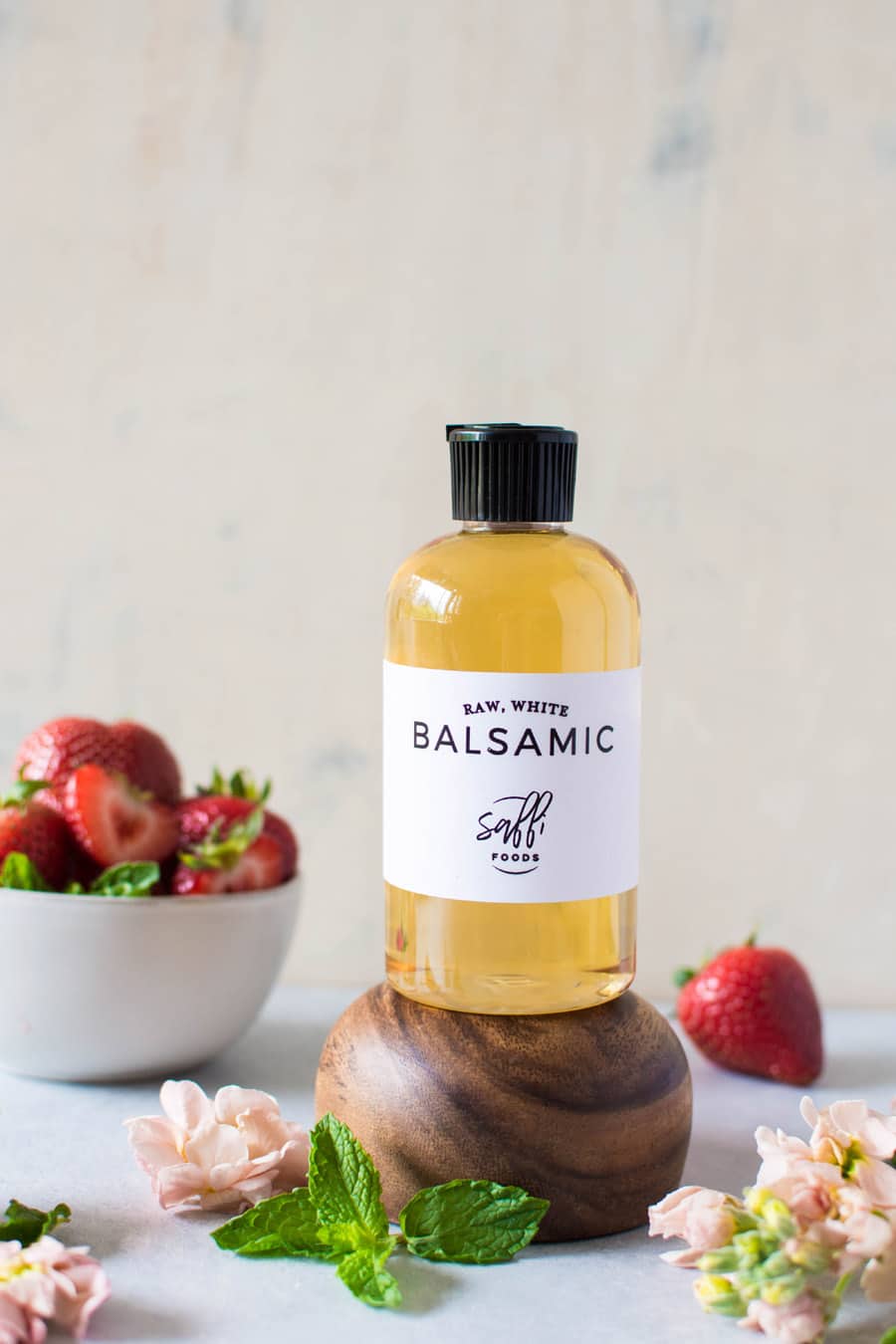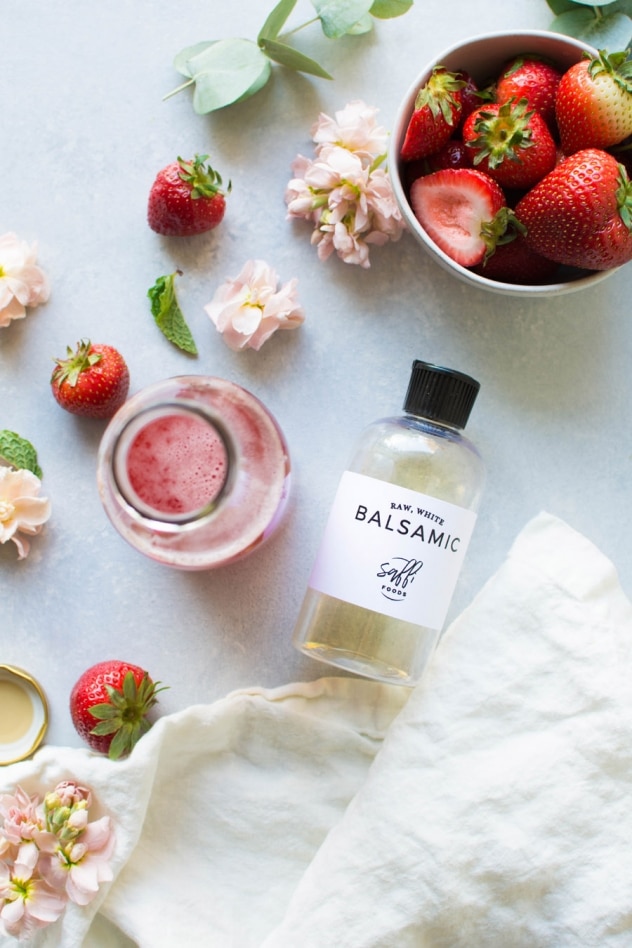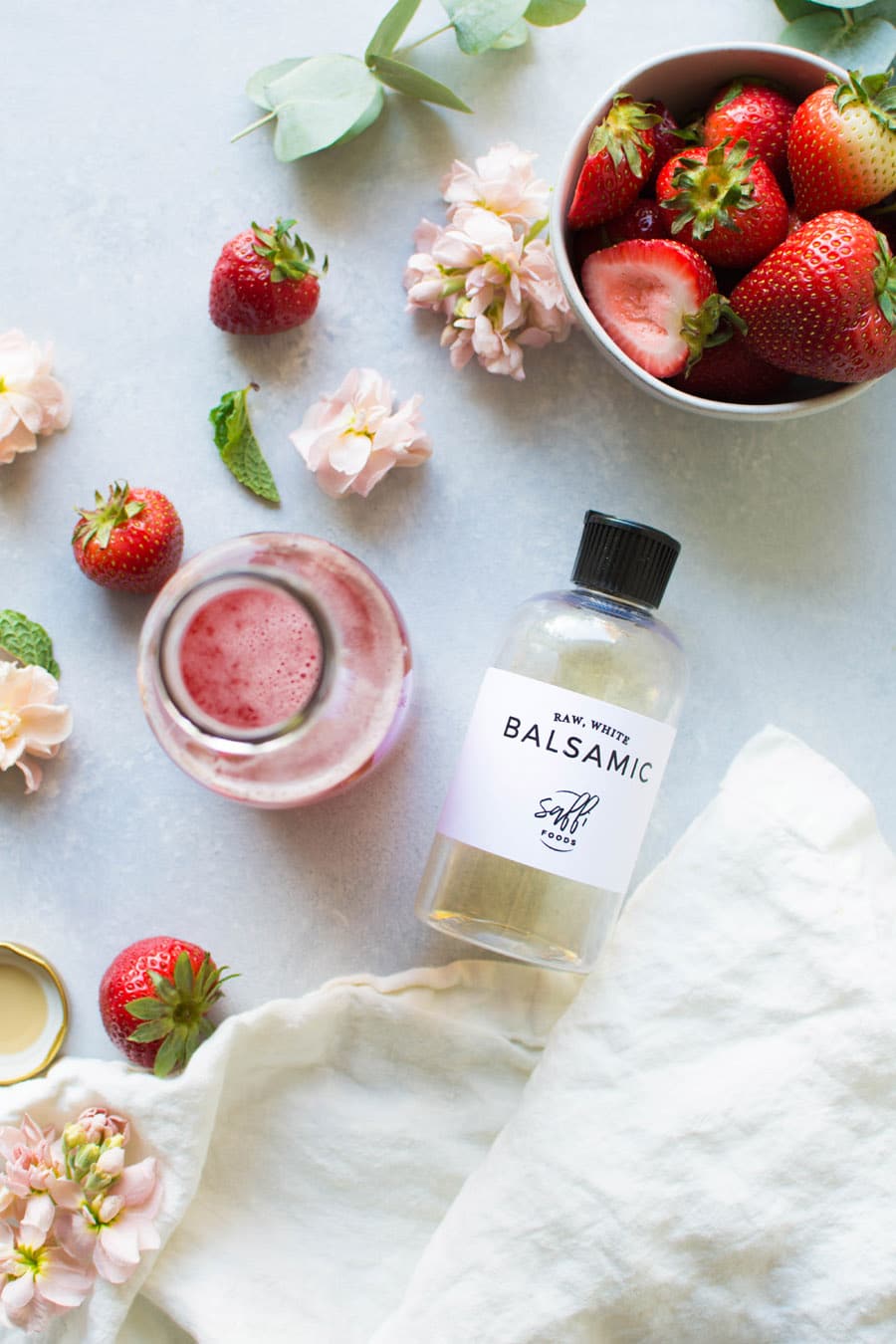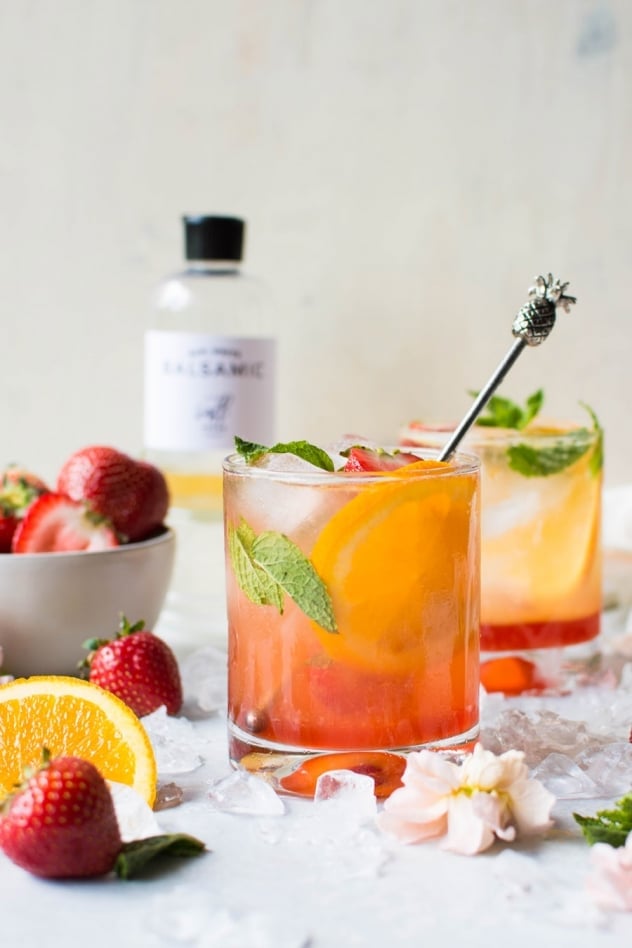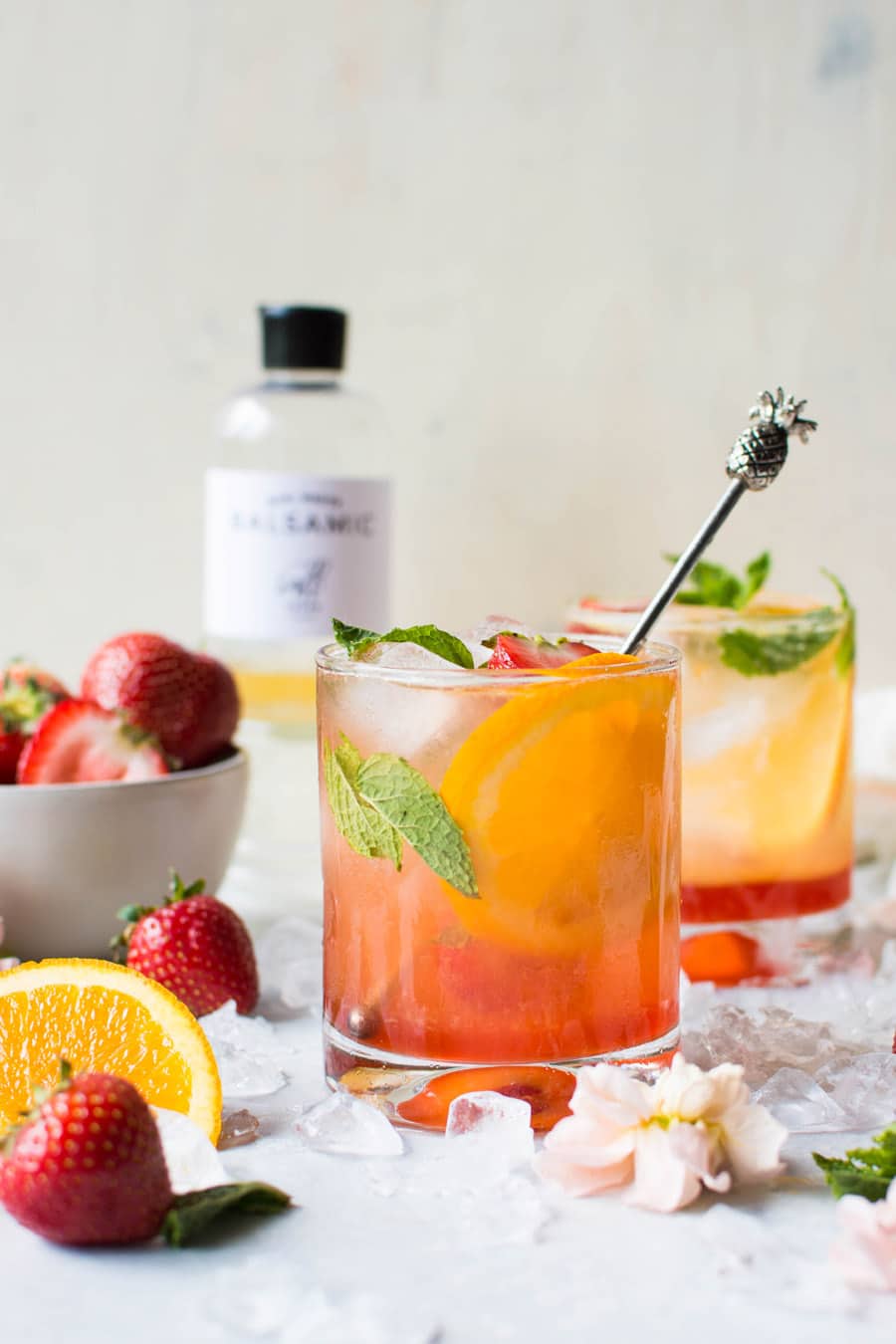 And now before we get to the details of the recipe, let's talk GIVEAWAY!!!
I've teamed up with the award winning company, Saffi Foods to give YOU my faaaavorite line up of their products, PLUS a super special new bonus item of theirs that has just barely hit the shelves!
THE GOODS
The winner of the giveaway will not only receive a bottle of the white balsamic vinegar used in this recipe, but also a bottle of the olive oil and sherry vinegar I used in my previous post for Olive Oil Fried Eggs with a Fresh Herb and Tomato Salad AND (drumm roll please!!!)… A BOTTLE OF THEIR BRAND NEW MAPLE SYRUP! As a maple syrup lover this little addition to the giveaway makes me so happy and so excited for you guys! This line up is a perfect pantry hook up to get your summer kitchen off to a delicious start!
TO ENTER THE GIVEAWAY:
Comment on this blog post with the first thing that you would make this summer using any of the giveaway prizes!
BONUS! Want more entries? Head on over to Instagram and find the giveaway post by following THIS LINK! There you can score some extra spots in the giveaway by following both Nyssa's Kitchen and Saffi Foods, and by tagging friends who you would wanna share a shrub + sunny afternoon porch sesh with this summer!
*The giveaway runs from today June 29th through Tuesday July 3rd at midnight PST. It is only open to U.S. residents*
*Thank you for entering, but the giveaway is now closed!*
That's it! Easy as pie. Or strawberry mint shrub 😉 Go get your entries in babes and get your yummy summer hydration game going STRONG! 💋
Disclaimer: This post was sponsored by friends at Saffi Foods. As always, all opinions are my own. Thanks for supporting the brands that help keep this site up and running!
Print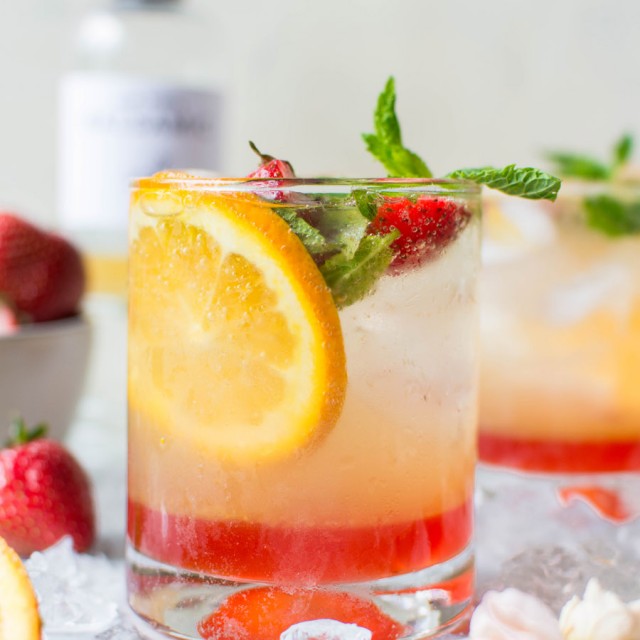 Naturally Sweetened Strawberry Mint Shrub + A Giveaway!
---
Author:

Nyssa Tanner

Total Time:

15 minutes

Yield:

2 1/2 cups

shrub

1

x
Description
This naturally sweetened strawberry mint shrub is made with juicy seasonal strawberries, fresh mint, white balsamic vinegar, and honey! It's a brilliant bright and tart base for refreshing drinks that you'll enjoy all summer long.
---
1

lb fresh strawberries 

1/2 cup

fresh mint + more for garnish 

1 cup

honey 

1 cup

white balsamic vinegar 
---
Instructions
Wash and cut strawberries in half. 

Add to a medium sized pot with vinegar and honey and bring to a simmer.

Simmer for about 10 minutes, until strawberries are start to soften and turn a darker shade of red.

Mash strawberries slightly with the back of a wooden spoon. A potato masher also works really well for this step! 

Set aside until cool enough to handle, and transfer to a heat proof jar. Add fresh mint, and stir to make sure it is completely submerged. Let cool completely on the counter and then move to the refrigerator. 

Let sit in the refrigerator for about 10-12 hours or overnight before straining through a fine mesh strainer. 

Store in the refrigerator for up to a month! Although if any signs up mold or discoloration occur throw it away and make a new batch.
Notes
Non-alcoholic serving suggestions:
Make a drink by adding a squeeze of fresh orange juice and an orange wheel to a glass along with a few fresh mint leaves and some fresh strawberries. Start with about 1 tablespoon of the shrub and add more to taste. Top with soda water and serve!
Cocktail serving suggestions:
Substitute simple syrup with this strawberry mint shrub in a classic eggwhite gin sour! Reduce the lemon juice slightly because the shrub is already quite tart. SO GOOD!
Mix a tiny splash with gin or vodka, soda water, and a big squeeze of lime. Refreshing and the perfect summer drink.
Other ideas for using your shrub:
Mix a teaspoon or two into a homemade salad dressing in place of whatever acid you would normally use (vinegar/lemon juice, etc)
Prep Time:

5 minutes

Cook Time:

10 minutes