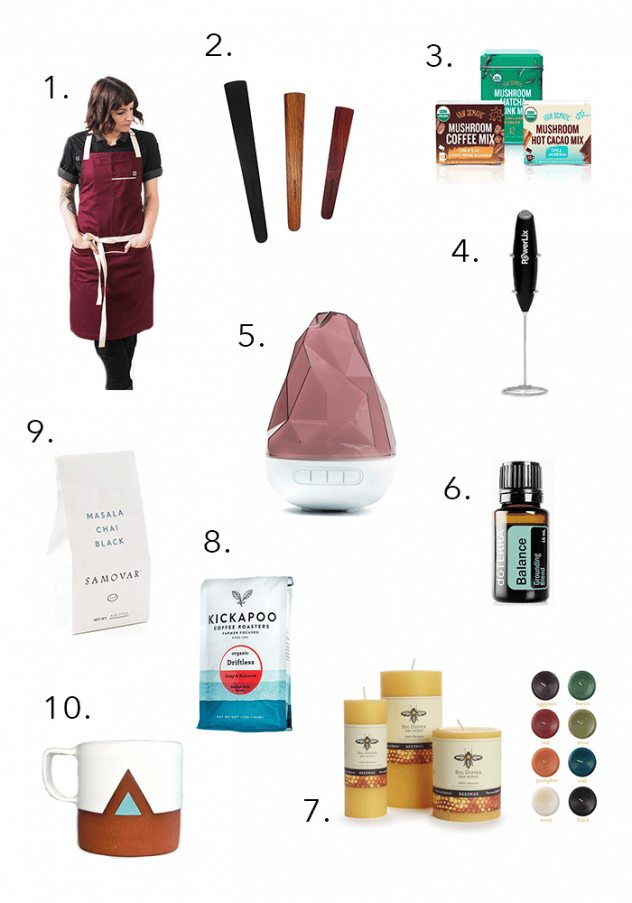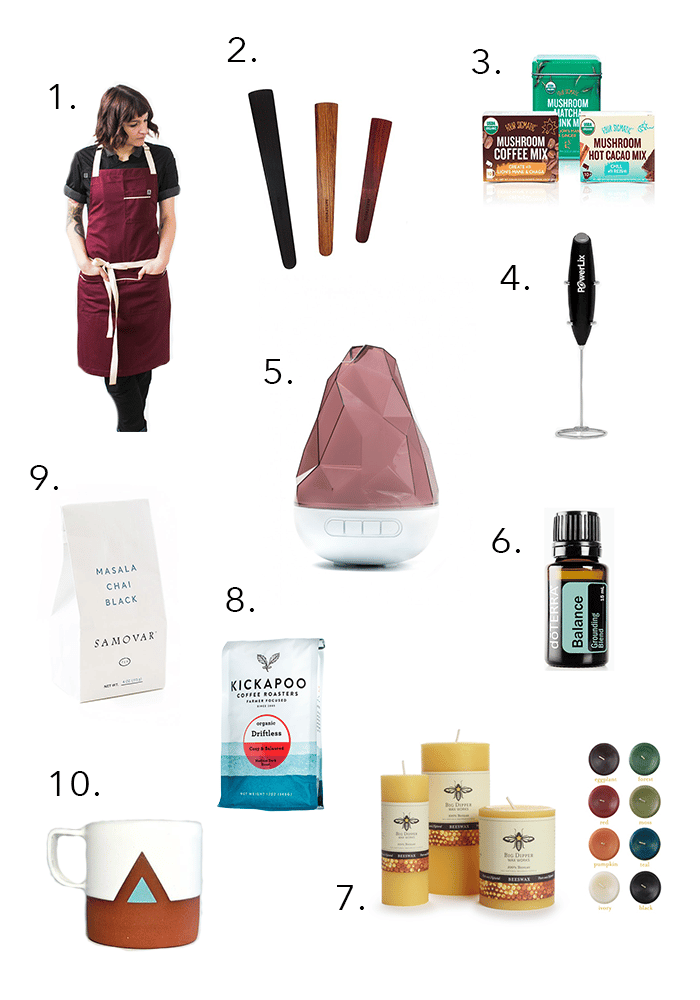 Friends! I have put together a little gift guide to share with you for the holiday season! This is the first one I have ever put together, and I could not be more thrilled. It includes some of my favorite health and wellness products that I use ALL the time and love, non profit organizations that are doing good things for humans, animals, and the environment, and subscriptions that support a healthy lifestyle. . Read on for more details!
products
If you are exchanging material gifts, it can be such a joy to give just the right gift to someone you love – especially when those gifts help support their health and well being! I use and love all of these products, and many are made by small businesses.
Hedley and Bennett Apron – I have owned this apron for about 4 years and I honestly couldn't imagine cooking without it. It is sturdy, practical and also stylish. Made to last using top grade American canvas, raw Japanese selvage denim and European linens – you can choose from several different styles and colors! $85 – $125
Earlywood Designs Flat Sauté Set – Beautiful, strong and long-lasting, this 3 piece sauté set has become an integral part of my kitchen utensils. For every web order they receive they donate to have a tree planted in the Atlantic rain forest of Brazil. $32
Four Sigmatic Mushroom Starter Kit – This little starter pack comes with 1 Mushroom Coffee with Lion's Mane, 1 Mushroom Matcha with Lion's Mane, and 1 Mushroom Cacao with Reishi. I have been a long time fan of this company and the quality of their product. Incorporating these medicinal mushroom products into your daily routine can help with reducing stress and increasing energy levels! $58
Powerlix Handheld Whisk – Great for making bulletproof coffee or matcha lattes on the go (or if you just don't feel like dirtying up your blender!). I've tried several battery operated handheld whisks and this one is most powerful and affordable one I found. Would be a great add-on gift to the mushroom starter kit! $14.99
Quooz Rockano Essential Oil Diffuser – I have a handful of diffusers in various rooms around my house, but the two of these that I own are my favorite! They are beautiful and work so well. Made to last a long time and sold for a great price on Amazon. $39.95
Doterra Balance Essential Oil – One of my all time favorite essential oils to diffuse. Woodsy and grounding, this essential oil creates a sense of calm and well-being that is perfect for the colder months of the year. Made with Spruce Leaf, Ho Wood Leaf, Frankincense Resin, Blue Tansy Flower, Blue Chamomile Flower, and Osmanthus Flower essential oils. $26.67
Big Dipper Beeswax Candles – Nothing creates a sense of coziness during the winter like burning a candle. And beeswax candles not only burn for a long time, they are also clean burning, non-toxic, and release negative ions that bind with possible toxins in the air! $10.50 – $26.50
Kickapoo Coffee – Farmer focused handcrafted quality coffee from my hometown in Wisconsin. They make the GOOD stuff, you guys. Award winning and every year they donate 5% of their profits to initiatives that strengthen rural communities. $14.50 – $18 per pound – and they also offer subscription gifts!
Samovar Masala Chai – Never have I tasted a chai tea that has made me feel quite the way this one does. Delicious beyond compare and made with organic ingredients sourced from artisan tea farmers who are committed to sustainable farming practices. $17
Wolf Ceramics Mug – This mug. My absolute favorite mug. The one I will dig out of the dirty dishes and wash instead of grabbing a clean one from the cupboard. A beautiful and stylish handmade piece from Sarah Wold in Oregon, WA. $48
donations
Donating to a non-profit organization instead of giving a material gift for friends or family is a great way to show some love for the causes that are close to you and yours' hearts. This year I'm participating in a influencer campaign to encourage folks to do just that! Donation gifts help reduce waste, and put a little extra light into the world for the things we care the most about. Check out the hashtag #giftforgood on Instagram for more charitable gifting inspo!
subscription gifts
Happiest of holidays to you and yours! May your gifts and home be full of love and light during this season✨