Babes! It's time for some grocery store scores!
I don't know about you, but one of my favorite things is a leisurely grocery shopping trip where I can browse the aisles without any concern of time just to see what's out there (it drives my husband CRAZY! It's really just better if we never go to the grocery store together).
Please tell me I'm not the only one?
Truth is though, we don't always have that option. So I've decided to compile a monthly round up of my favorite grocery store scores to share with you. My hope is that it will help you skip the process of searching out the sweet deals and cut straight to the (delicious) chase!
Of course some of these items are going to be specific to the Seattle / PNW area, but I'm sure many of them you can find where you live.
In this round up I will share:
What the products are
Why I love them
Where I bought them
Where you can purchase them online if you decide you've GOTTA have them delivered straight to your door!
Before digging into these awesome products that I know and trust, an important disclosure:
Some of the links below are affiliate links, which means that if you choose to make a purchase, I will earn a commission. This commission comes at no additional cost to you. Please understand that I have experience with all of these products, and I recommend them because they are tried and tested, not because of the small commissions I make if you decide to buy something. Please do not spend any money on these products unless you feel you need them or that they will help you achieve your goals.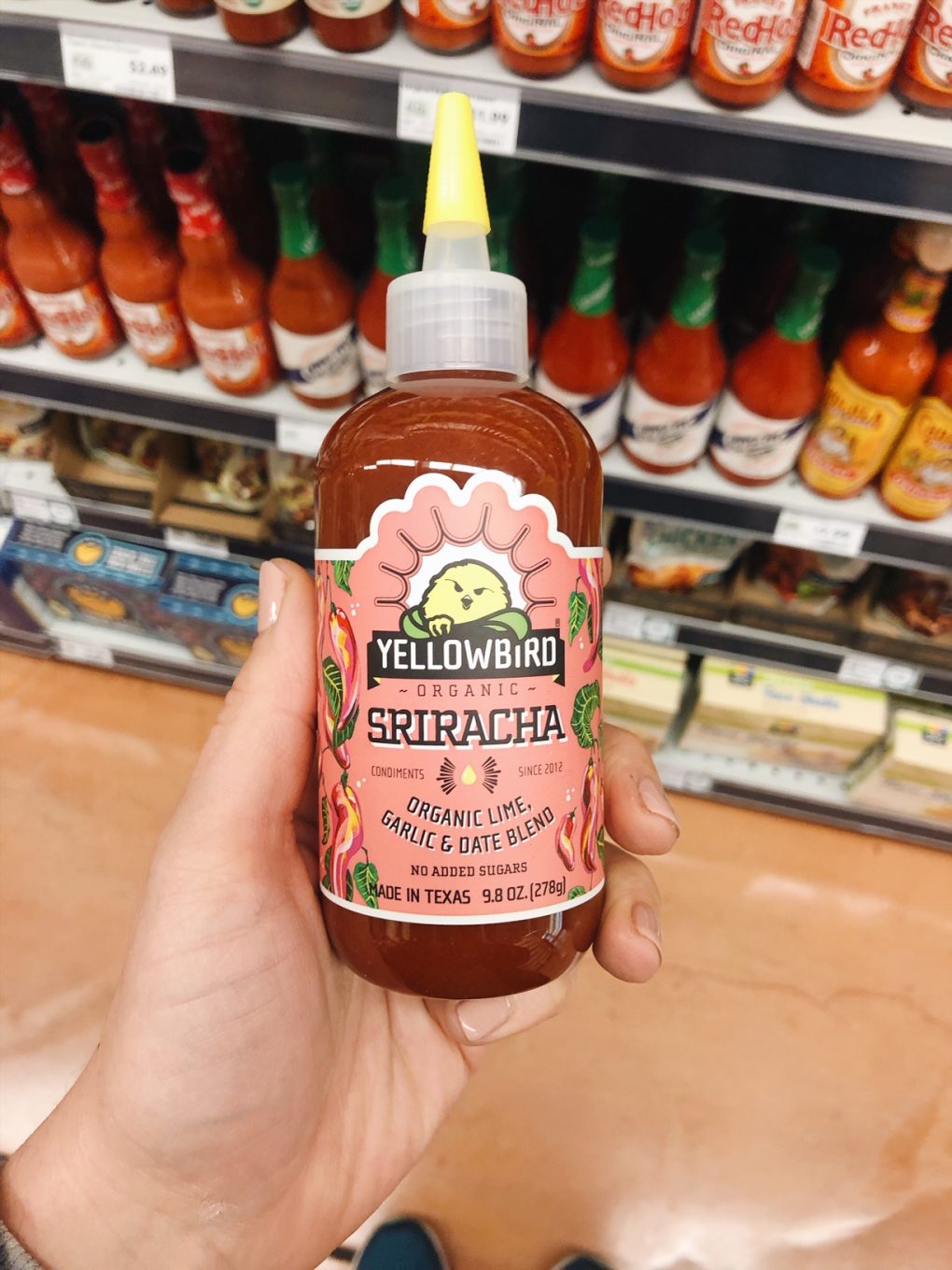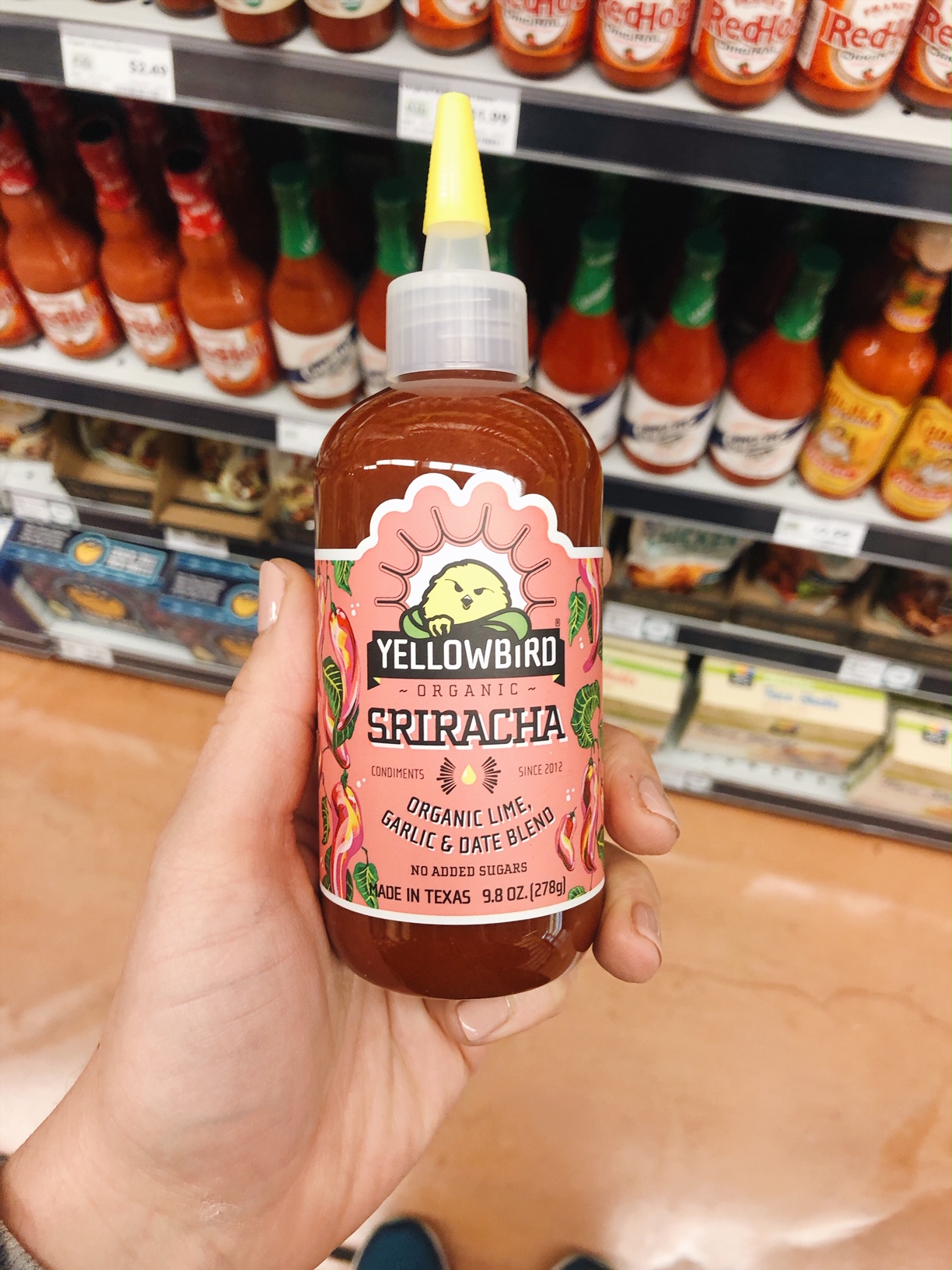 What it is:
First things first, we HAVE got to talk about this paleo friendly sriracha hot sauce.
HOLY MOLY YOU GUYS. I never knew I could love a hot sauce so much, let alone a paleo friendly hot sauce. These folks over at Yellow Bird are doing it right.
It has a ton of flavor (a must for me and hot sauces), is spicy but not to the point of drowning out the flavor of what you eat it with, and is made with the cleanest ingredients. No gums, fillers, preservatives, or sugars in sight.
Like what the actual.
Why I love it:
I have tried many healthier sriracha hot sauces, and this one far exceeded all others I've tried. It's made with awesome + healthy ingredients like:
Jalapeños
Garlic
Dates
Raisins (I bet your childhood self never knew raisins could made your adult self so happy)
Tangerine juice (YES! Tangerine juice is the answer to everything)
Lime juice
I came across it when I was doing my mini Whole30 last month, and literally everyone in our house fell HARD. It became our go to hot sauce for pretty much every meal. Excellent flavor, and wholesome ingredients you can feel good about.
Of course Austin, TX would be the place to rock a badass hot sauce like this. I shouldn't be surprised but the ingredients and quality were just so amazing that I was knocked off my feet.
They have other flavors as well that I cannot wait to try next. One of the ingredients in their habañero hot sauces is CARROTS! How cool is that?!
Where I bought it: Whole Foods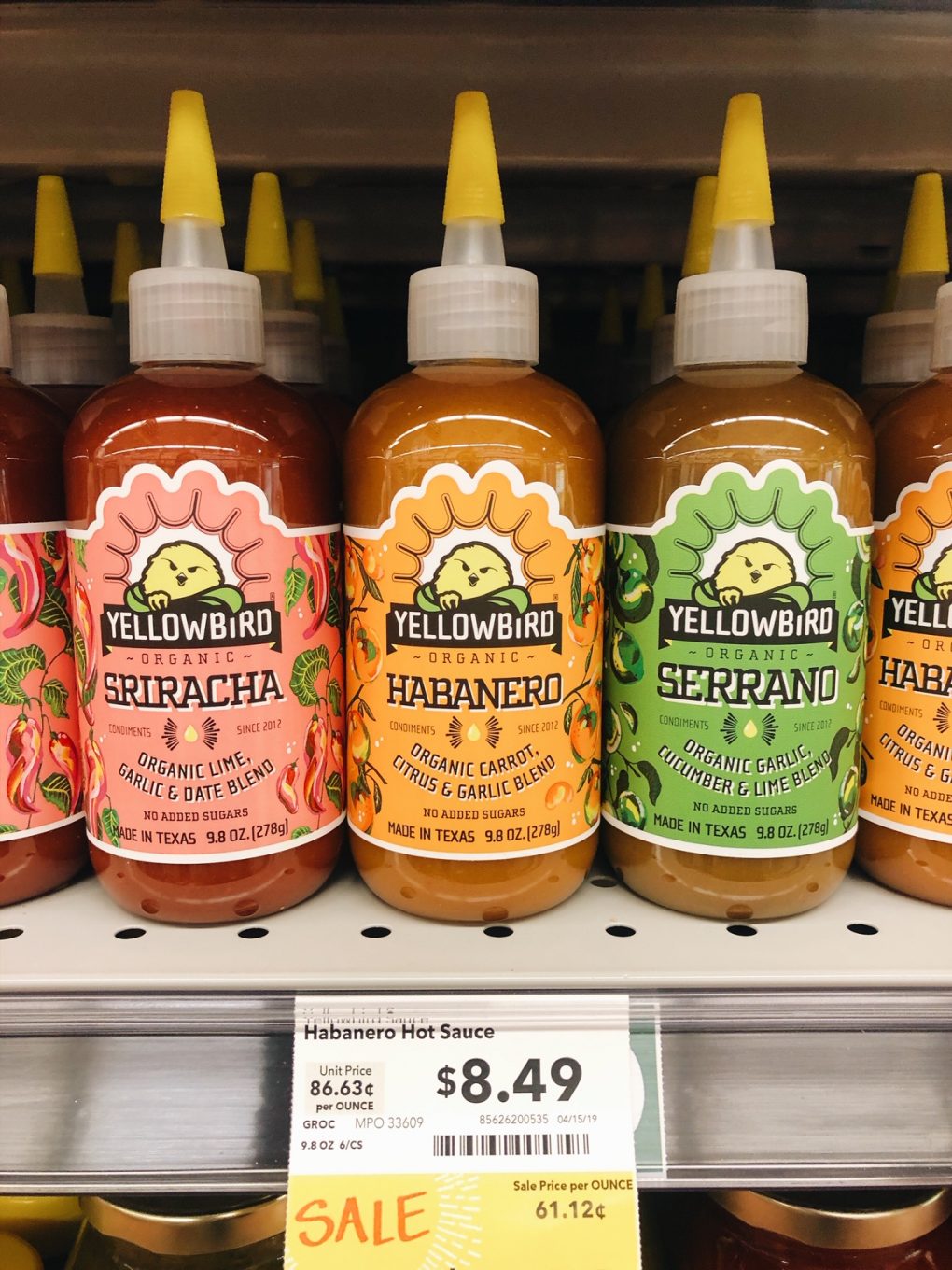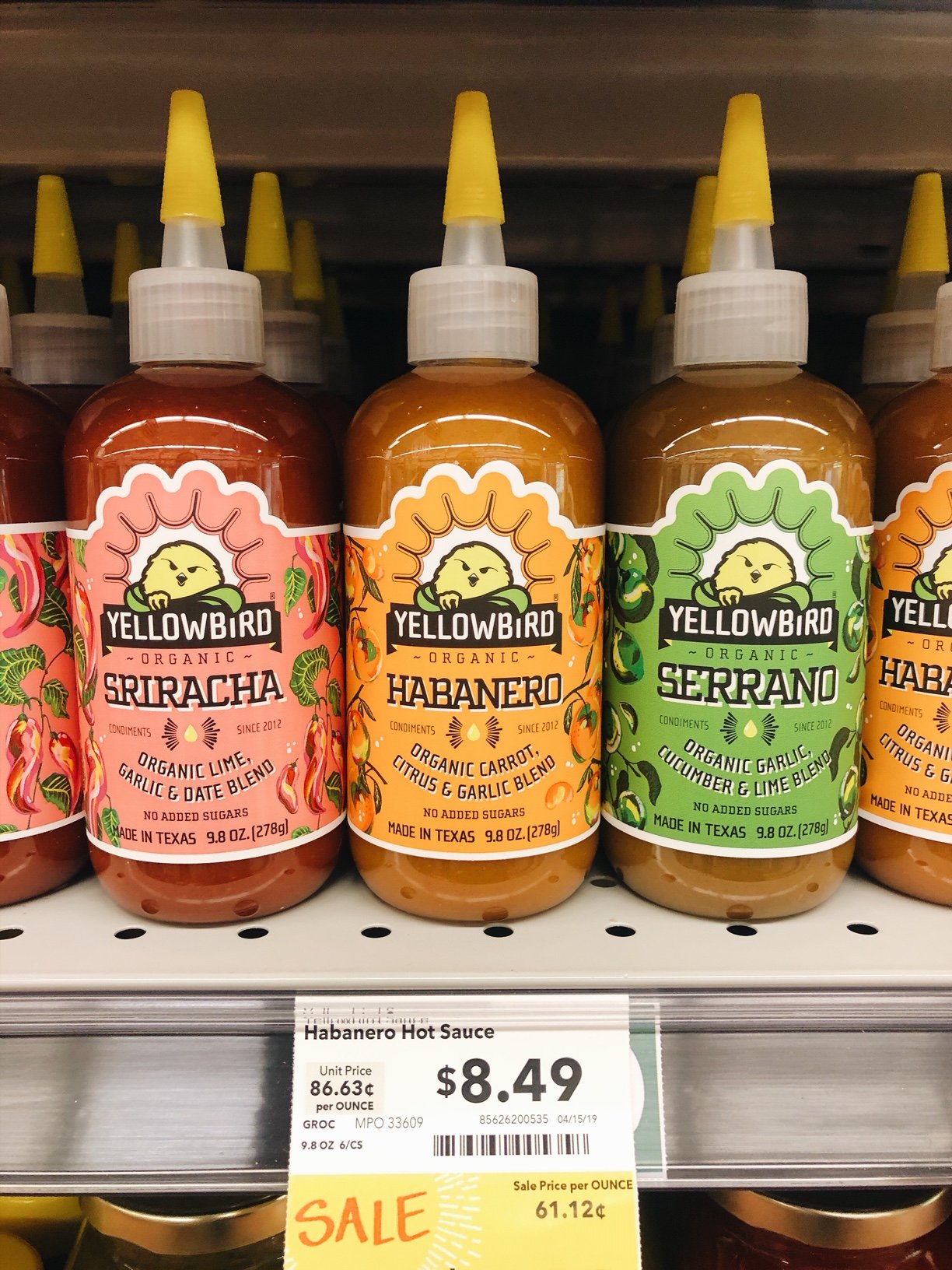 Next up is this nut milk from the company Malk Organics.
What it is:
A 100% clean and organic nut milk from Houston, TX with a seriously awesome family sourced mission.
Why I love it:
Their slogan is NO ARTIFICIAL ANYTHING and they mean it.
As they say on their website:
MALK Organics products are dairy-, soy-, gluten-, GMO- and lactose-free and vegan friendly. No carrageenan. No binders. No colors or sweeteners Mother Nature wouldn't recognize. Made with six ingredients or less, and more than one cup of sprouted organic nuts in every bottle, Cold-pressed with the latest technology to retain all the nutrients without losing any of the flavor. Get real with MALK Organics. The delicious alternative to artificial.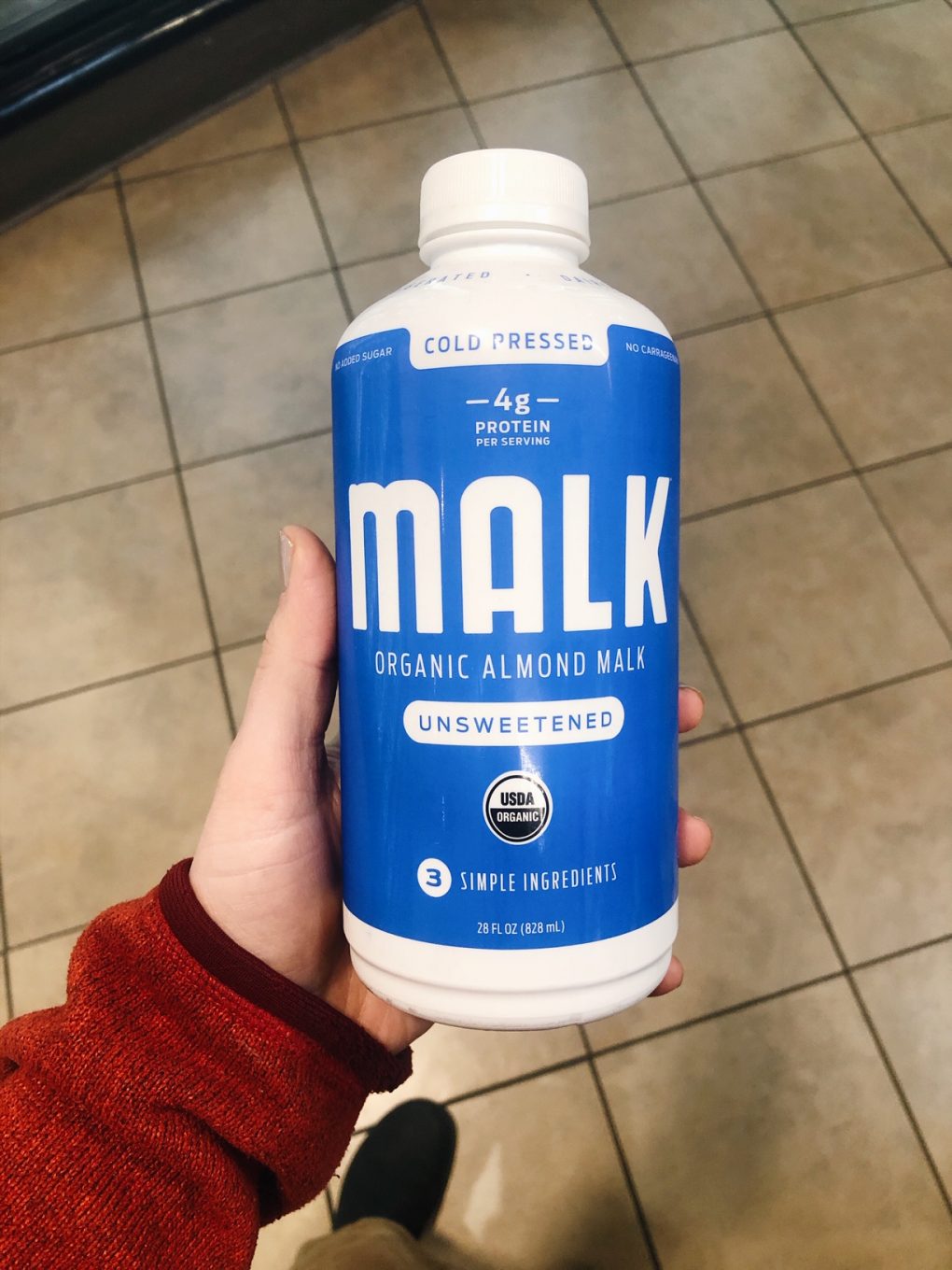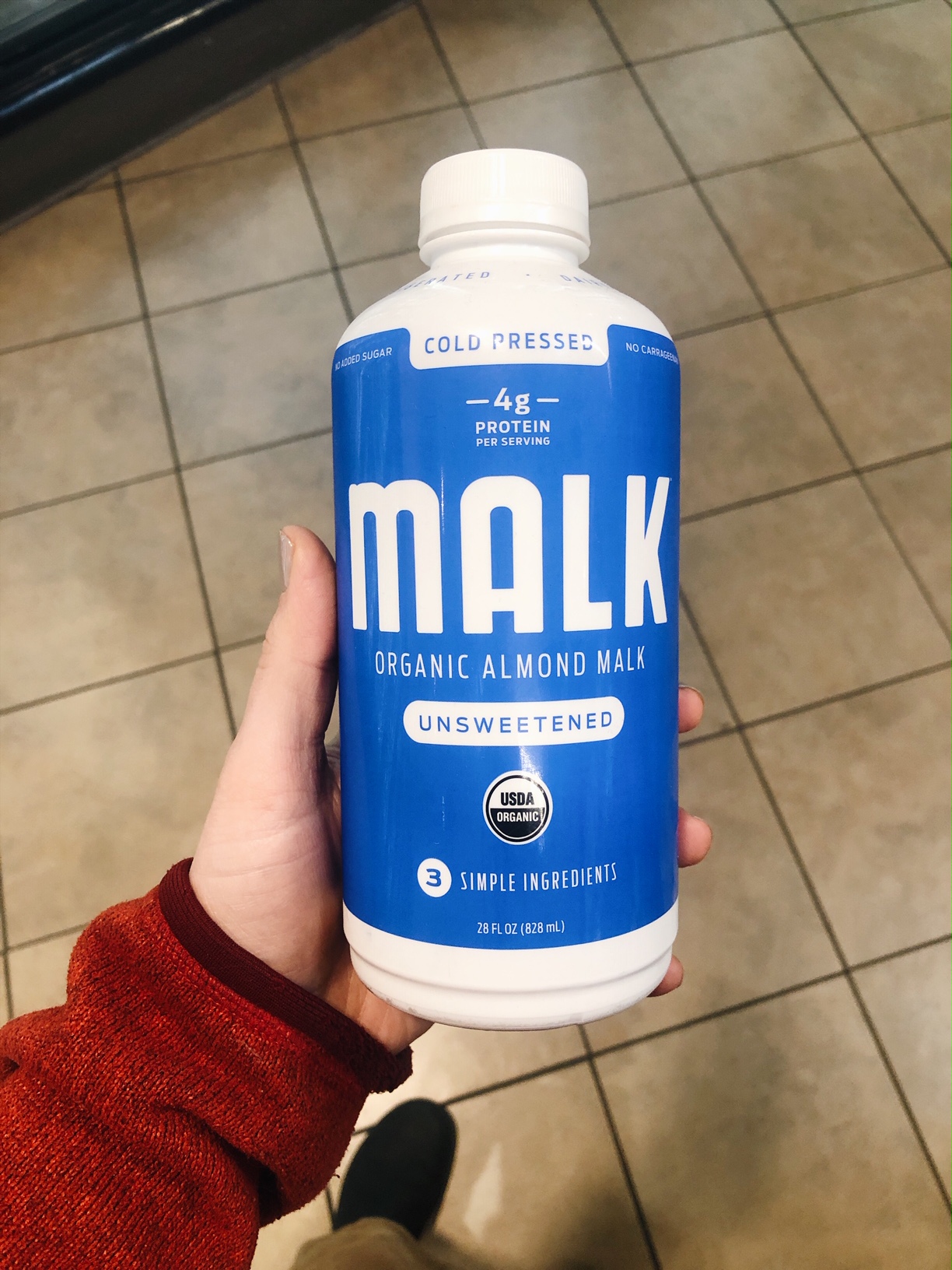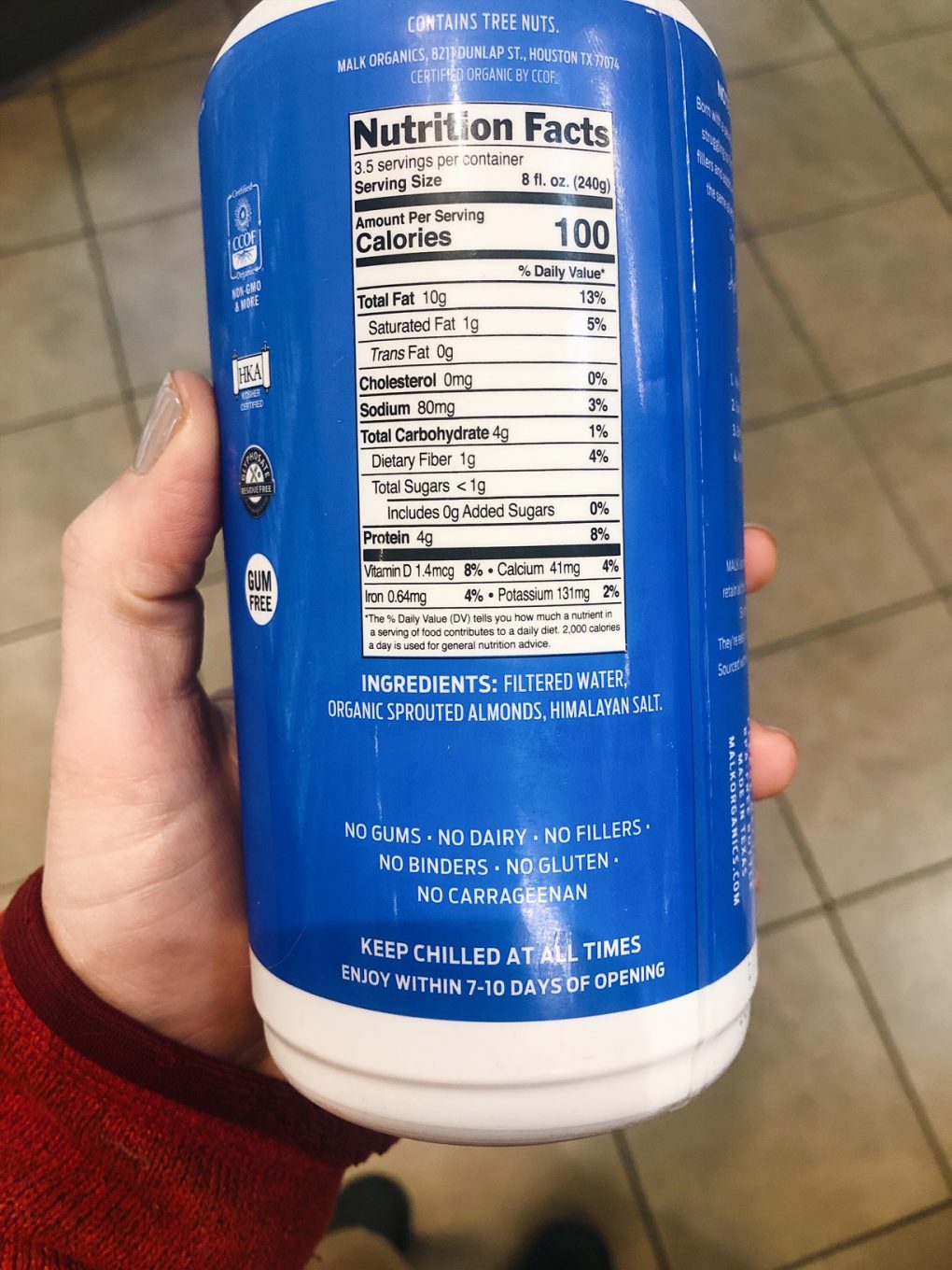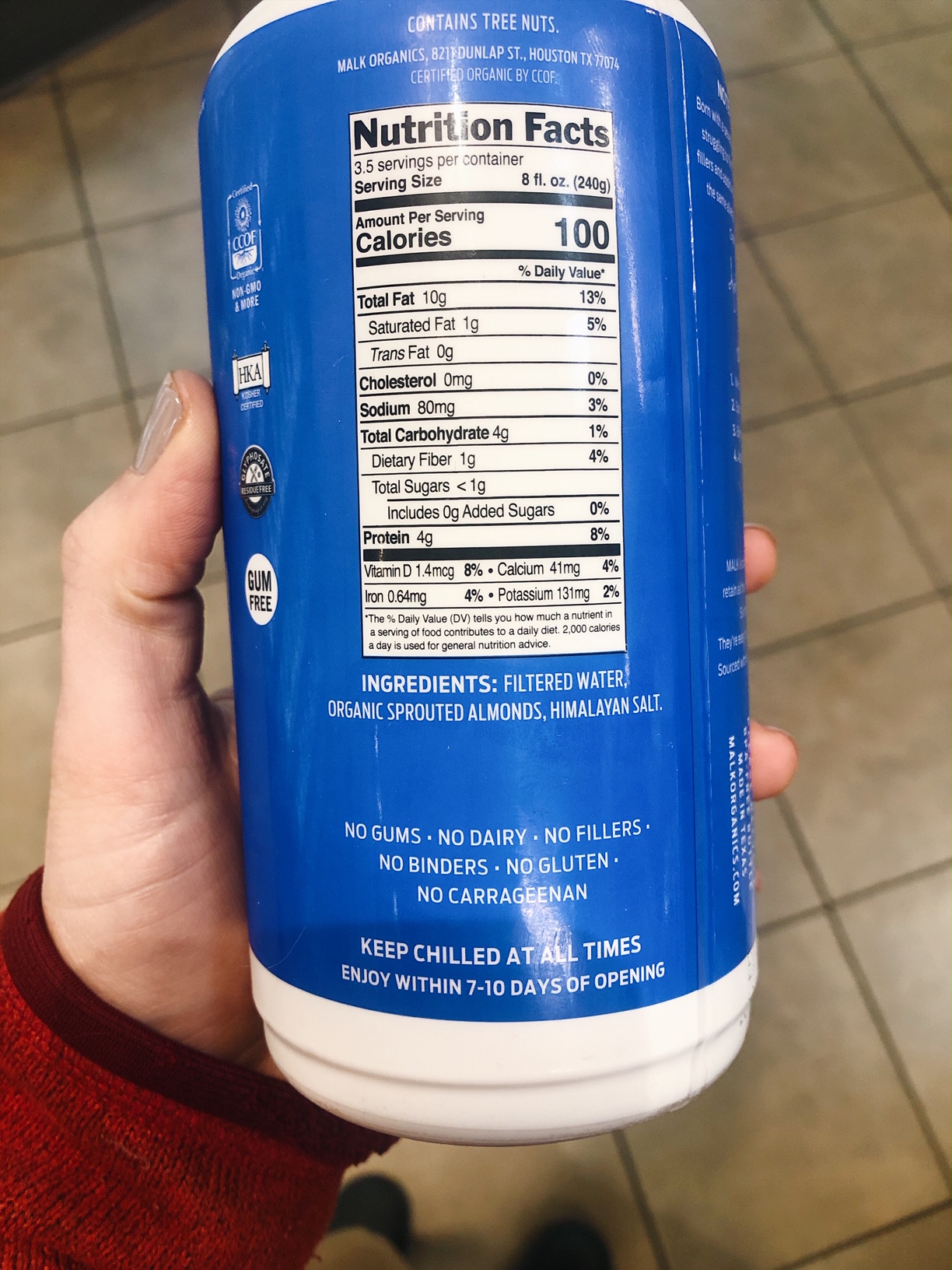 It literally only has the ingredients that nut milk would have if you made it at home, but without all the fuss!
The ingredients are:
THAT'S IT.
They do make some that are naturally sweetened or have vanilla flavor, but those ingredients are still 100% groovy. If you can find the maple pecan flavor – BUY IT AND USE IT IN EVERYTHING! The only place I have found it is in CO, and it's SUUUUH GOOD. I don't think I stopped looking for it on the shelves in Seattle for months after trying it.
It just recently popped up on the shelves here in Seattle, so I'm thinking they're expanding their market!
AND THEY SPROUT THEIR NUTS. Which is something that I would probably never do if I were making nut milk myself, sooo #UPGRADE.
I also really love their cashew milk. It's a nice change from almond milk – a little more creamy and sweet!
All of their nut milks have an amazing texture and flavor – my favorite way to use it is in my smoothies, with granola, and iced coffee.
Where I bought it: Whole Foods
Currently unavailable for online purchase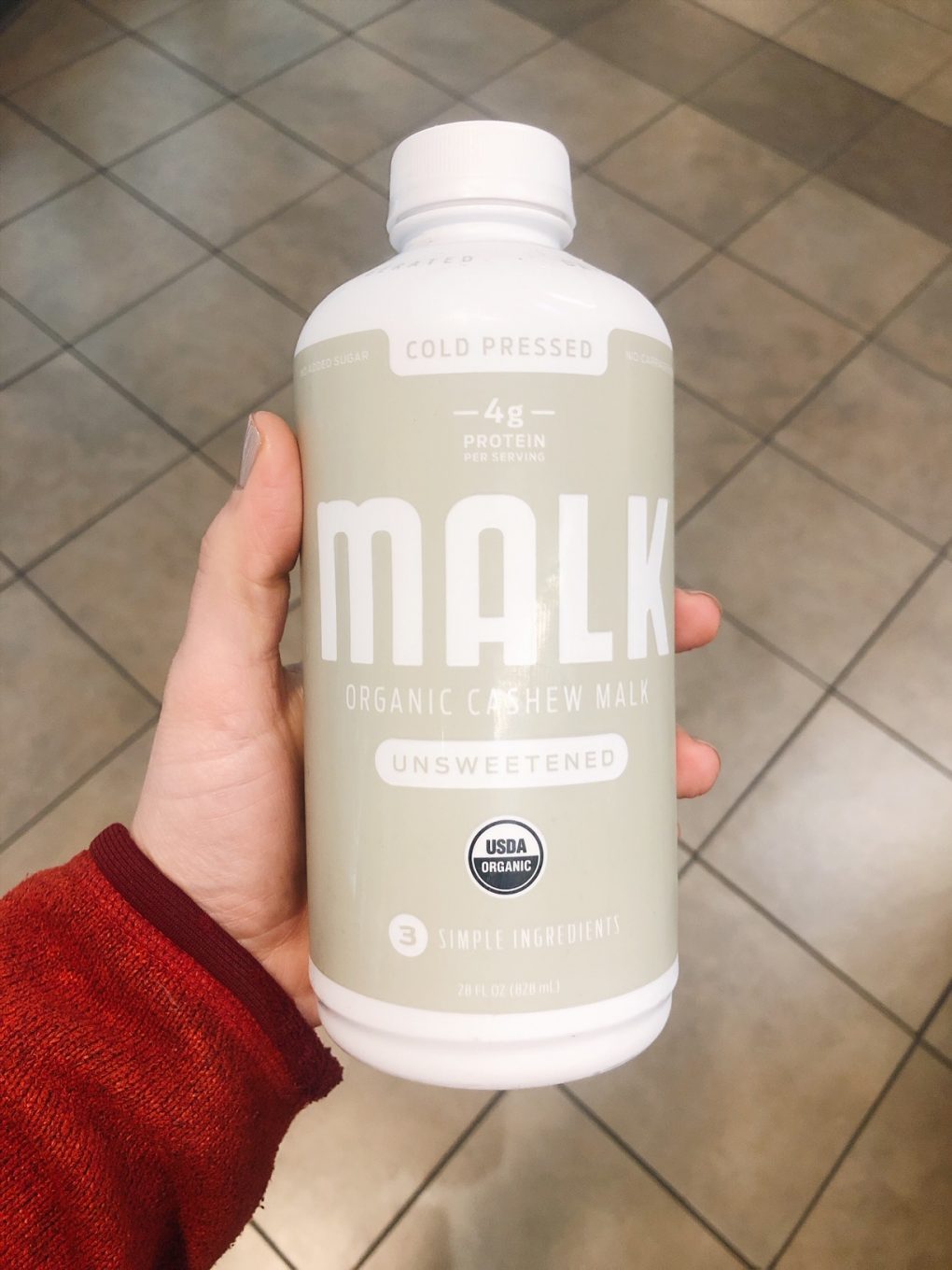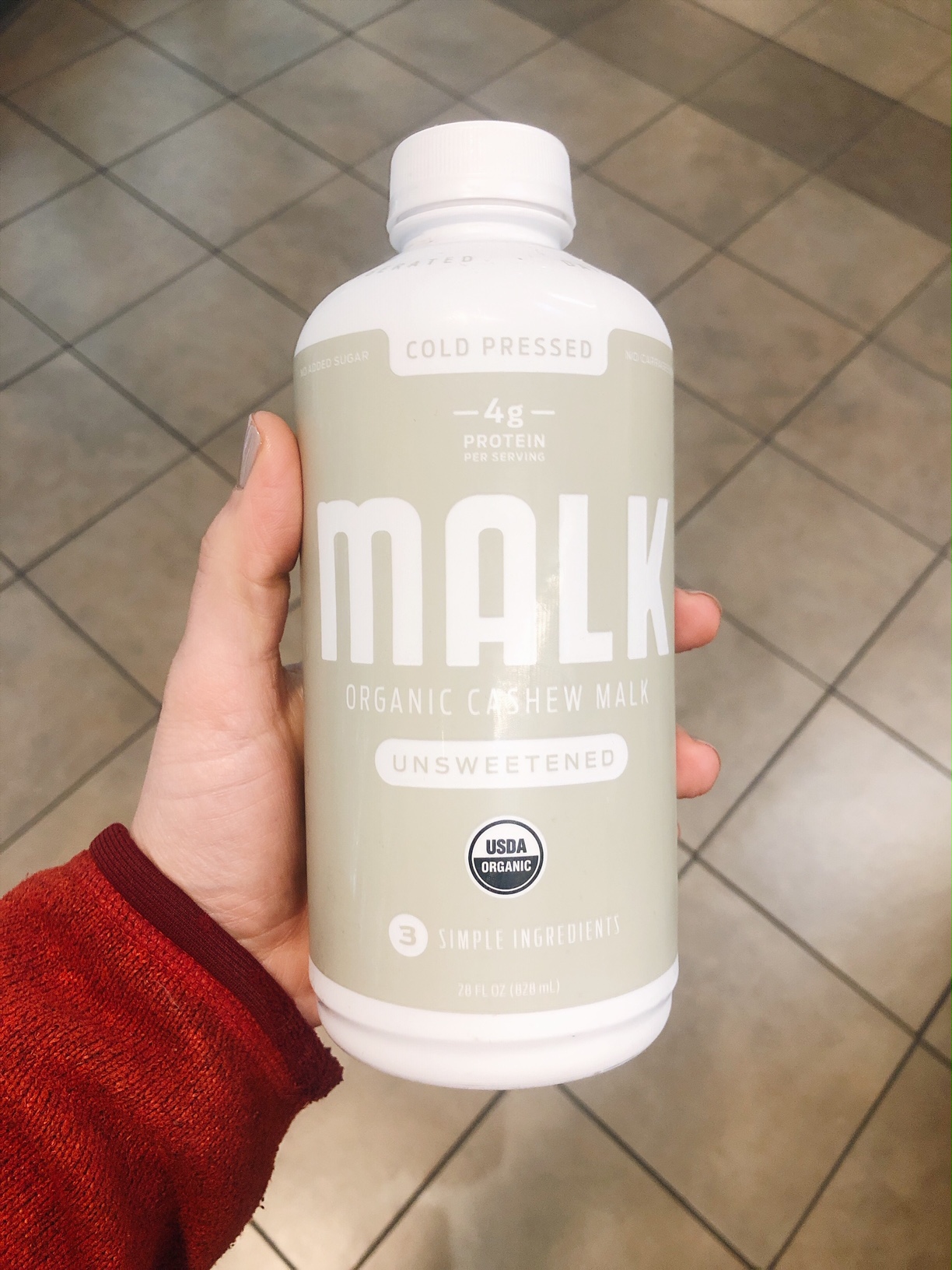 Now it's time we talk gut healthy probiotic rich sauerkraut!
What it is:
There are a lot of amazing sauerkrauts out there on the market, and this one is one of my top picks.
It is a Seattle, WA area product, but I believe their market is expanding!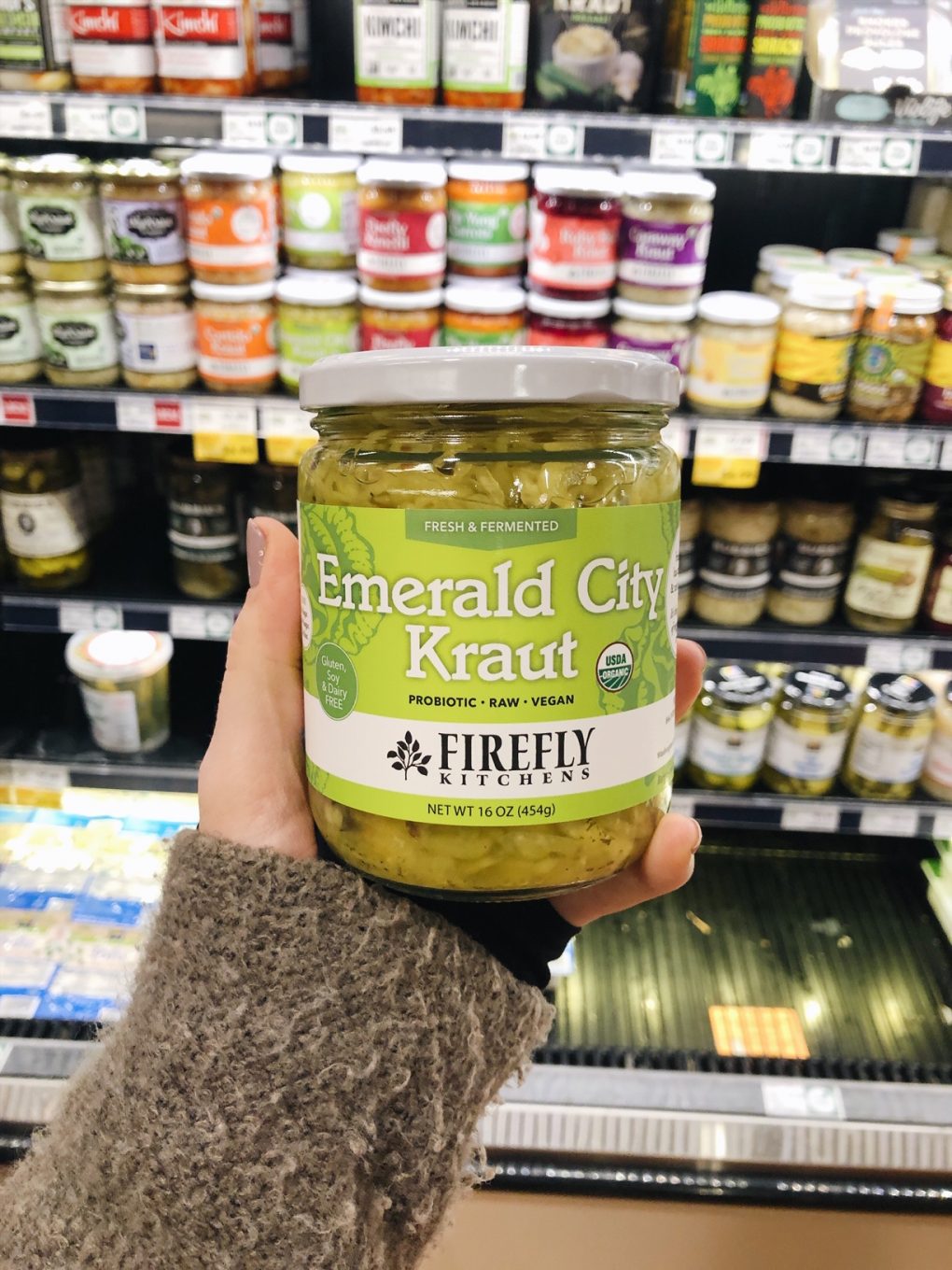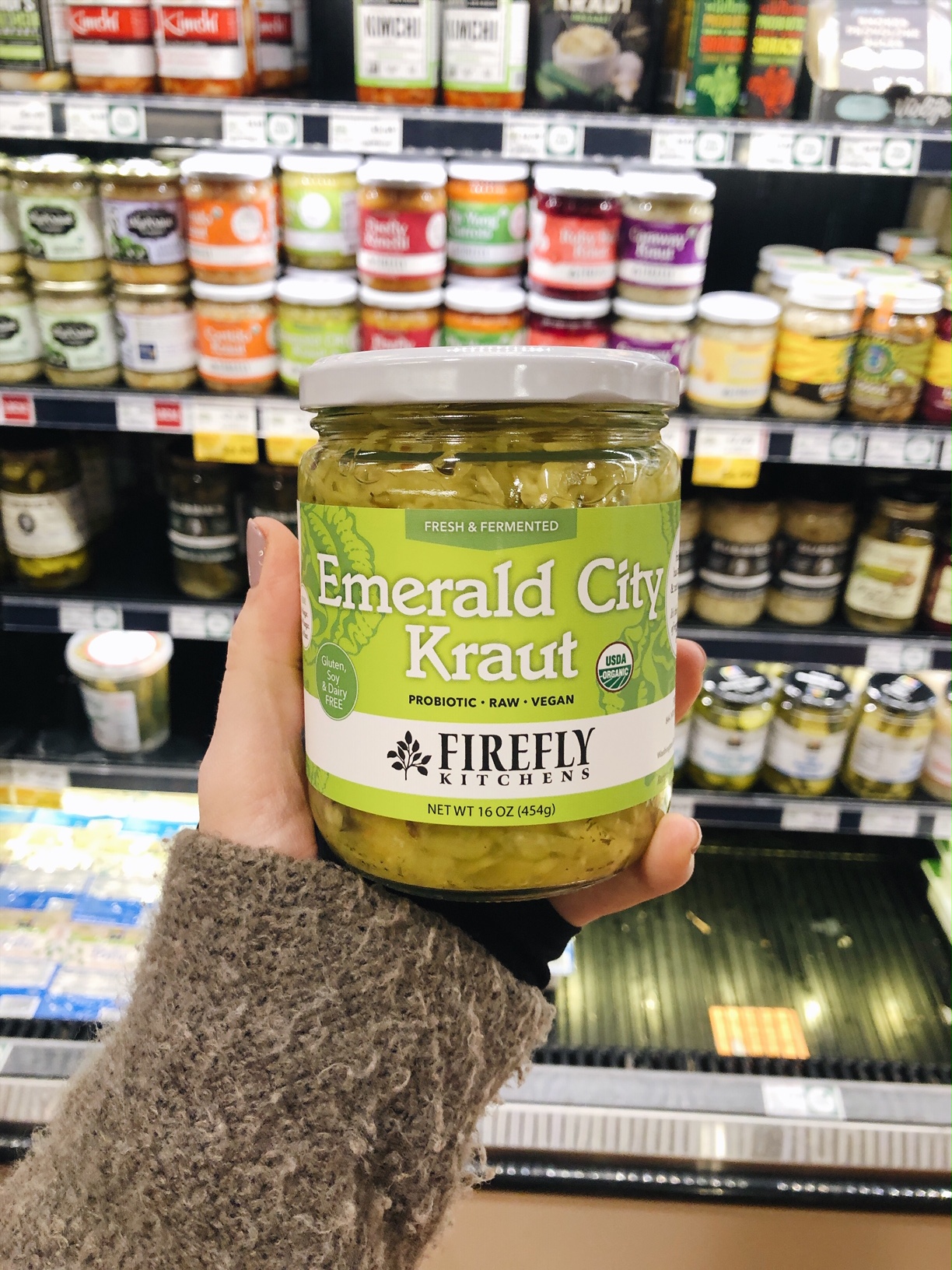 Why I love it:
The ingredients are pure and simple, and all organic.
It's made with:
Organic cabbage
Celtic Sea salt
Organic kale
Organic Dill
Organic Coriander
Organic turmeric
Organic red chili peppers
The flavor is amazing, it is crunchy and bright, without being overpowering.
I love to add scoop to my breakfast, lunch and dinner plate for some probiotic GOODNESS.
It goes especially well with any type of bowl situations, or even these Marinated Steak and Avocado Tacos! Tacos + a little saurkraut is actually a super delicious combo.
They also make a tonic from the brine of this saurkraut and I'm obsessed. A little shot of that in the morning and my tummy feels.
Where I bought it: Whole Foods, our local food co-op, and local farmer's markets
Lastly, but really not least, because we all now that snacks are QUEEN – we have to talk about these GRAIN FREE PALEO PUFFS!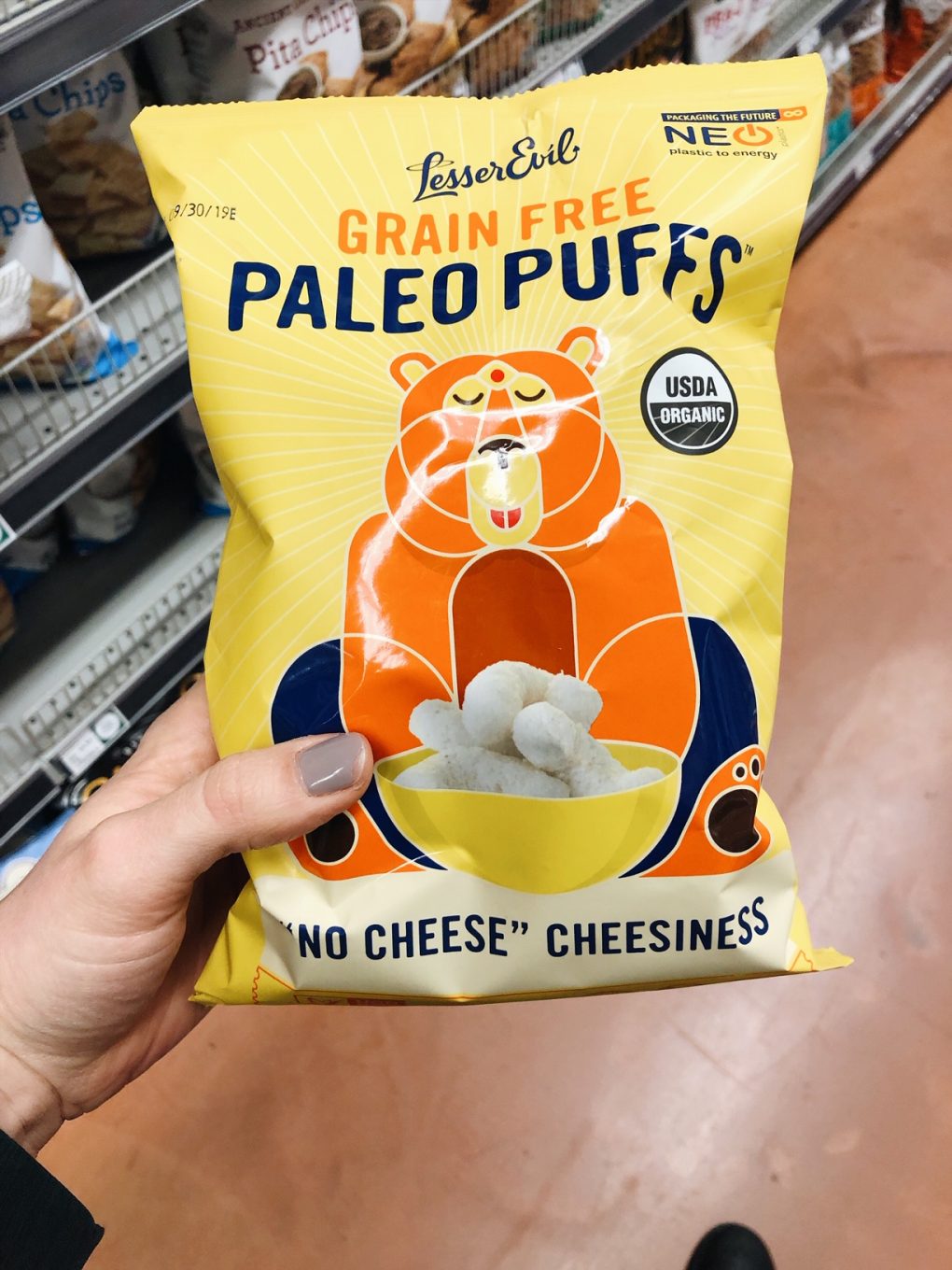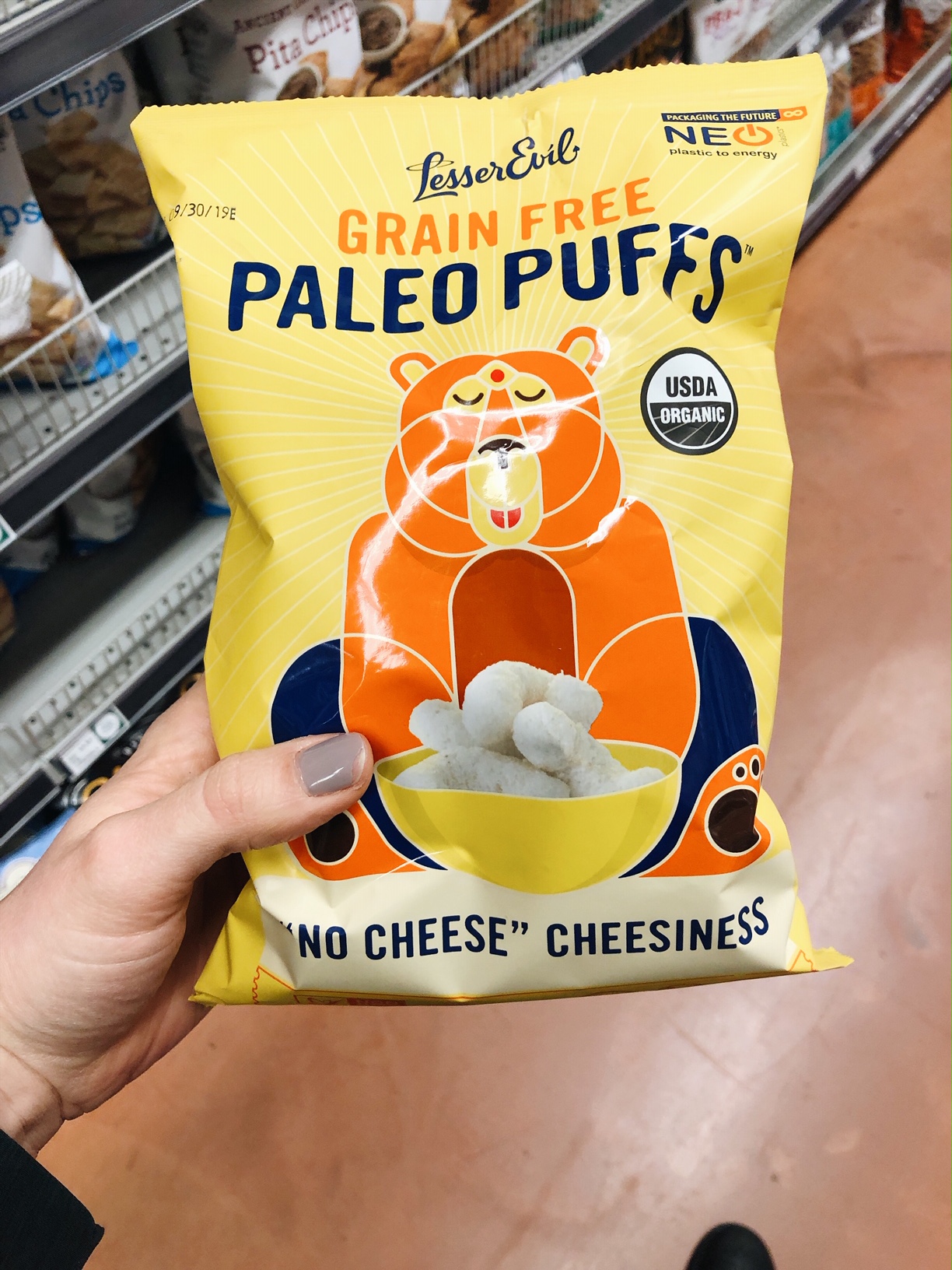 I'm only going to say it once – (okay that's a lie bc I tell everyone I know BUT) these snack puffs ARE. SO. LEGIT.
What it is:
A paleo friendly grain free puff that is made from:
Cassava flour aka tapioca flour
Coconut
Sweet potatoes
Sea salt
Nutritional yeast (hello cheesy flavor!)
All the yummy spices
Why I love it:
Every bag has the perfect amount of salt, spice, and crunch. They are so incredibly satisfying. The best healthy salty crunchy snack when you just need a little something, something to get you through the snacking hour.
Nothing fake, nothing artificial, only real food ingredients that are naturally gluten + grain free. Such a crazy delicious / healthy snack!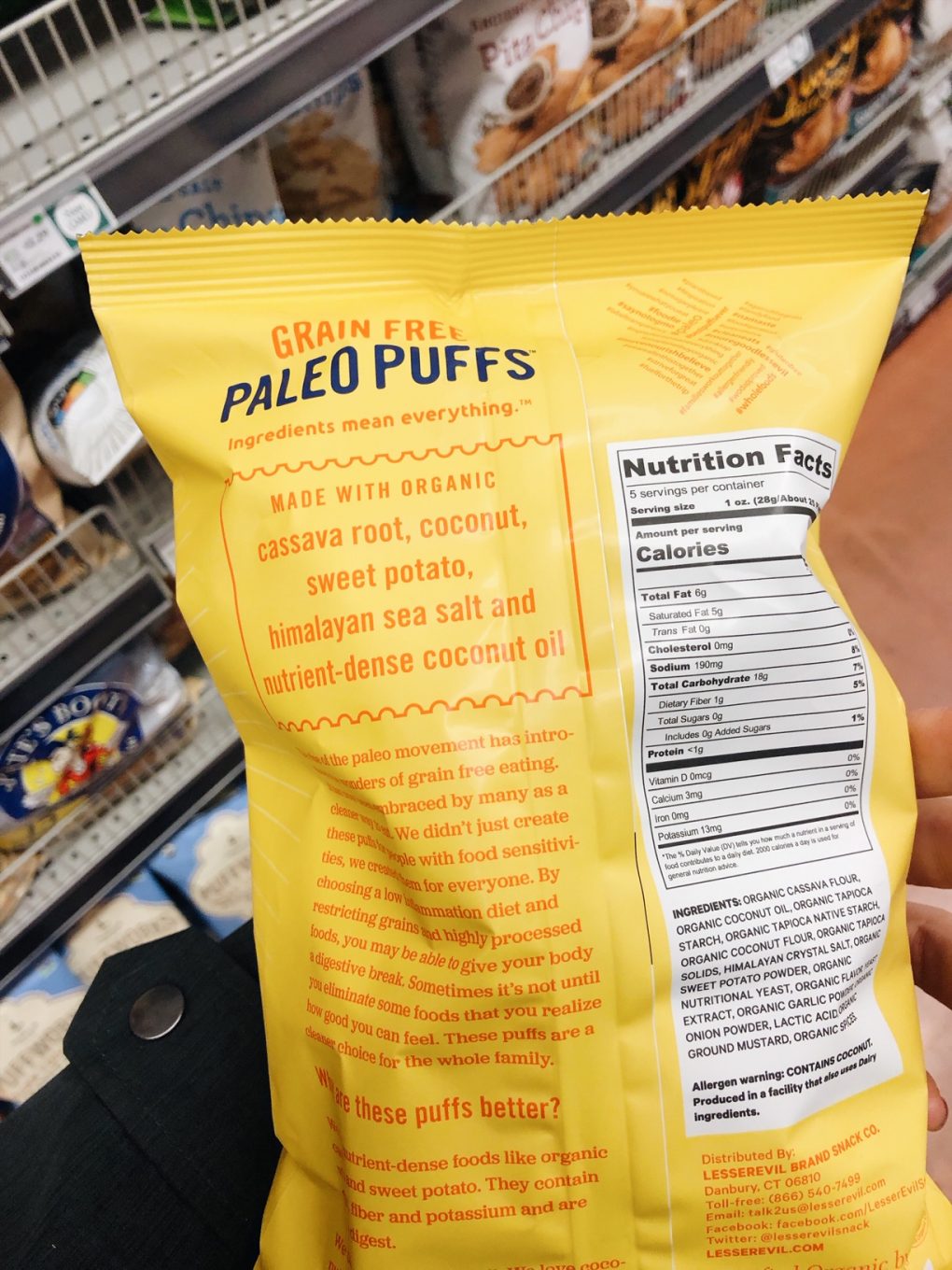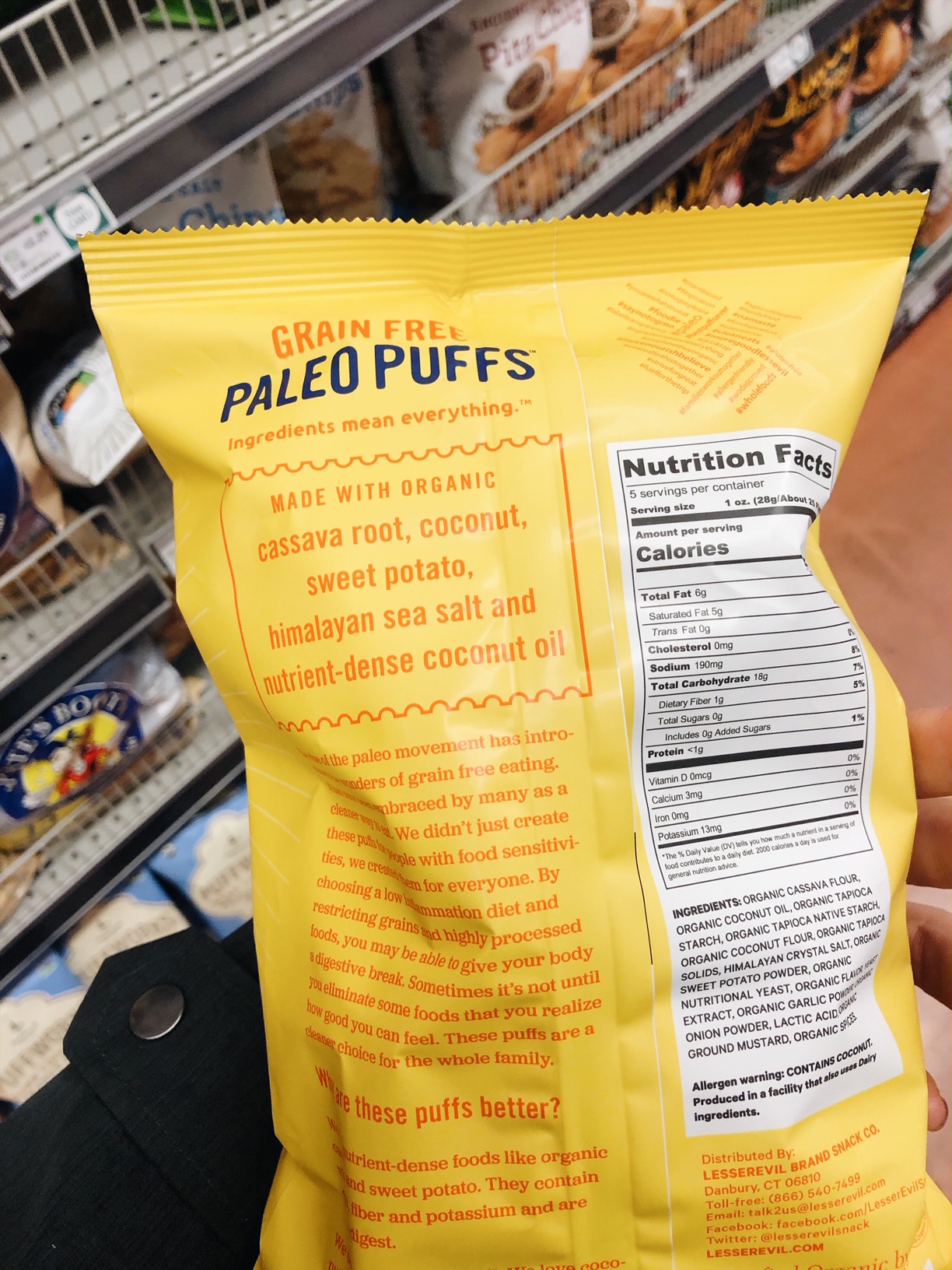 Where I bought it: Whole Foods, our local food co-op, and Thrive Market
They are much more affordable on Thrive Market, but it does require an account sign up to purchase from Thrive. If you've been thinking about going for it I would HIGHLY encourage you to do so.
If you're not familiar, Thrive Market is an online natural grocery store that sells almost every natural product available (everything form pantry items to skincare to organic wine and BEYOND) for 25-50% off store prices. Like literally actually really huge discounts on a bunch of the stuff you're already buying at your local grocery store or online.
I signed up a couple of years ago, and before I did, I very systematically compared the prices of the products I buy at Whole Foods / our local food co-op / Amazon with the prices on Thrive Market because I was skeptical.
I was BLOWN away.
Their claim is everything that it states. To this date I've saved over $2,000 on my purchases, and my average annual saving is over $600.
I mean.. what!? That's some serious vacation money right there, babes!
Membership costs $59.95 a year or $5 a month, but with the links I've included in this post you will get a 30 day free trial to see if you like it + and an EXTRA 25% off your first order. YUS PLEASE.
The other cool thing about Thrive Market is that they give you free gifts with your purchase! Some of my most favorite new products have come from these awesome gifts. They are doing it right and hooking up health conscious folks who are also on a budget. I appreciate their business model so much.
If you have any questions about Thrive hit me up and ask me! You can email me directly at hello@nyssaskitchen.com or DM me on Instagram and I'll give you all the deets on how I order and my favorite products. You can also check out some unboxing videos I share in the highlights of my Instagram page.
And that's a wrap for this month's grocery store scores! I hope you found this post informative and useful. Let me know if you have any feedback or anything to add in the comments below! I would LOOOOOVE to know what your most recent grocery store scores are so I can also seek them out!
Together we can win stocking our kitchens.
Love and happy shopping, babes!