Hey guys!! I am SUPER excited to announce that I am starting a new guest blog post series over at Bitte, a small batch and artisan children's online store that offers clothing and toys that are unique and built to last. Run by mother and daughter duo, Maia McDonald Smith and Sara McDonald, their store and blog embody many similar values as Nyssa's Kitchen, and I'm thrilled to be connecting with their audience. I'm also incredibly excited for you to explore their beautiful and sustainable goods – their shop is always the first place I look for gifts for little ones, and I think you'll see why when you check them out!
The first post that I'll be sharing on their blog is a recipe for the essential summer salad.. Continue reading for the first part of the post, and then click the link below to get the full recipe!
---
Ahhh Summer. The season of sun kissed shoulders, light that stretches late into the evening, and dining al fresco with meals where all you need is a simple main dish and a lovely salad to round everything out. And if you have a green thumb, it's a salad that's been made with freshly picked vegetables from the garden. Cue in the essential summer salad.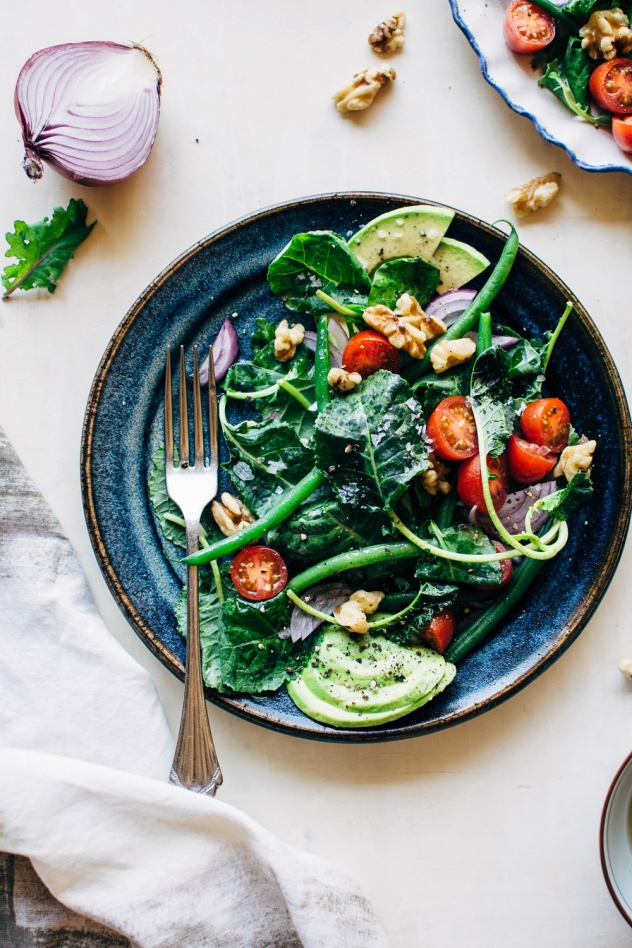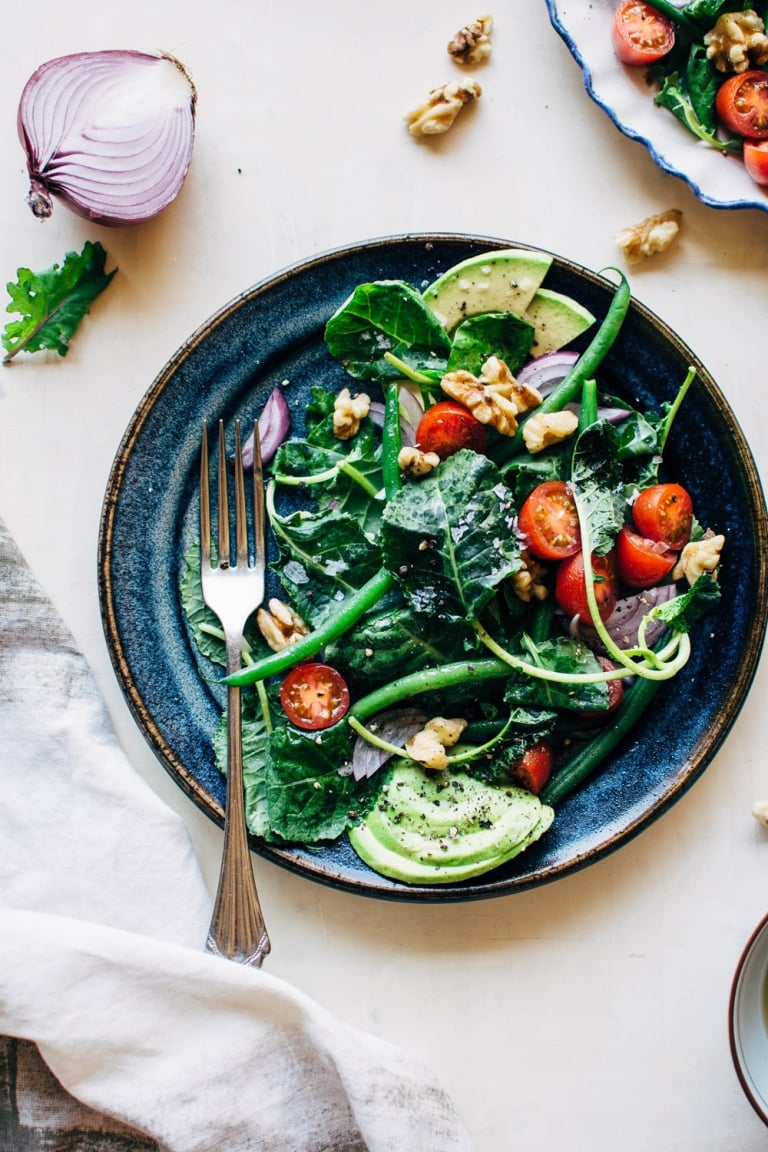 A salad that loves being paired with whatever's on the menu, comes together in less than 10 minutes, and hosts a variety of nutritionally dense summer veggies that (if you have a garden) are probably going bonkers right now.
And the beautiful thing is, even if you don't have a garden with an ample bounty, your neighbor may (and they're probably looking for someone to share their harvest with! All the heart eye emoji's for those neighbors), and if not either of those options, you know your local farmer's market is brimming with all the summer vegetable glory that mid-winter dreams are made of.
Yikes! Did I just say the W word?!
Let's not even go there.
This summer salad, though, is fair game to talk about.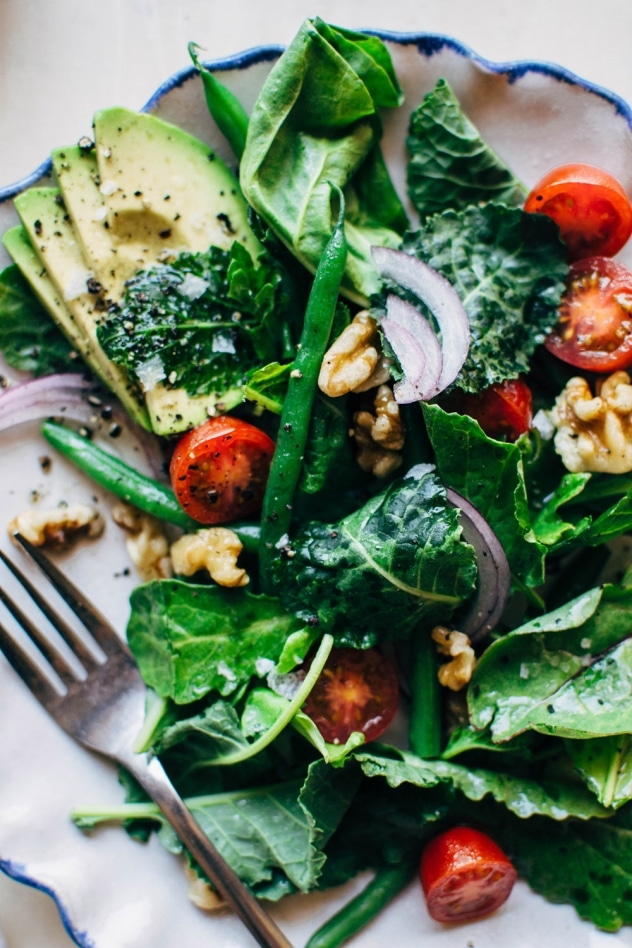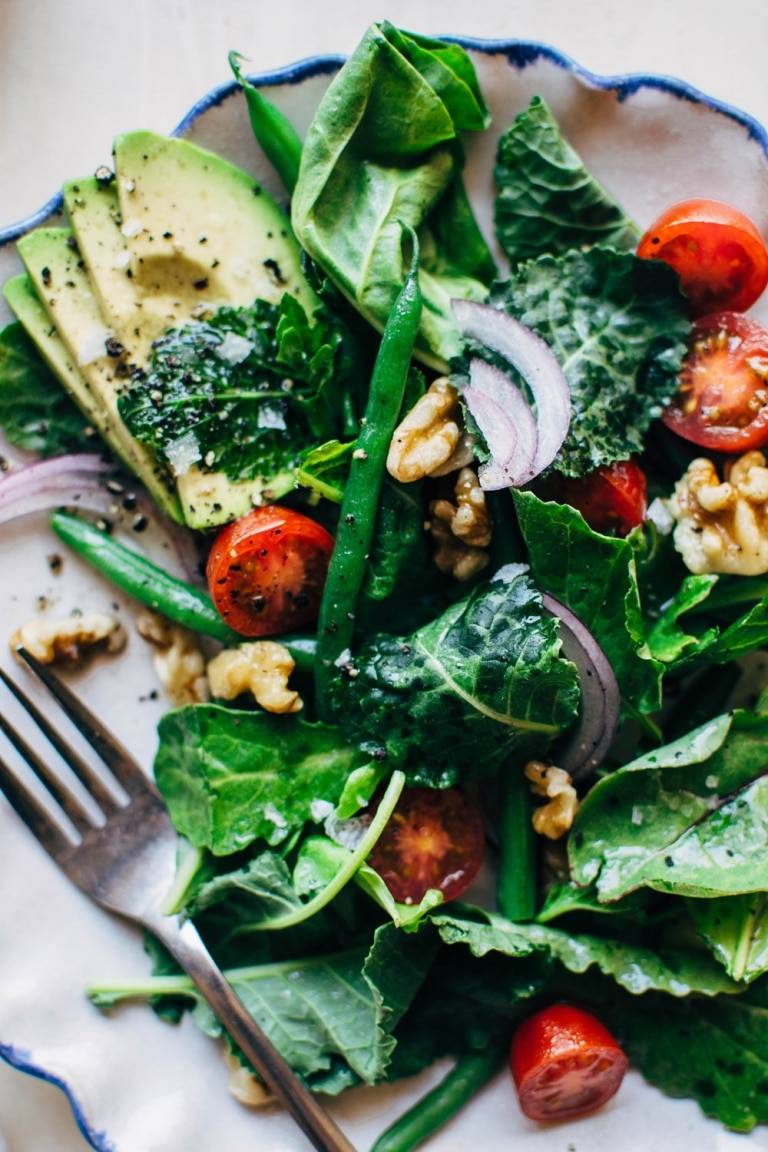 Made with layers of tender salad greens (anything your family likes will work beautifully here), sun ripened tomatoes, snappy-barely-blanched green beans, thinly sliced red onion, a sprinkling of wholesome walnuts and some perfectly ripe avocado for extra healthy fats.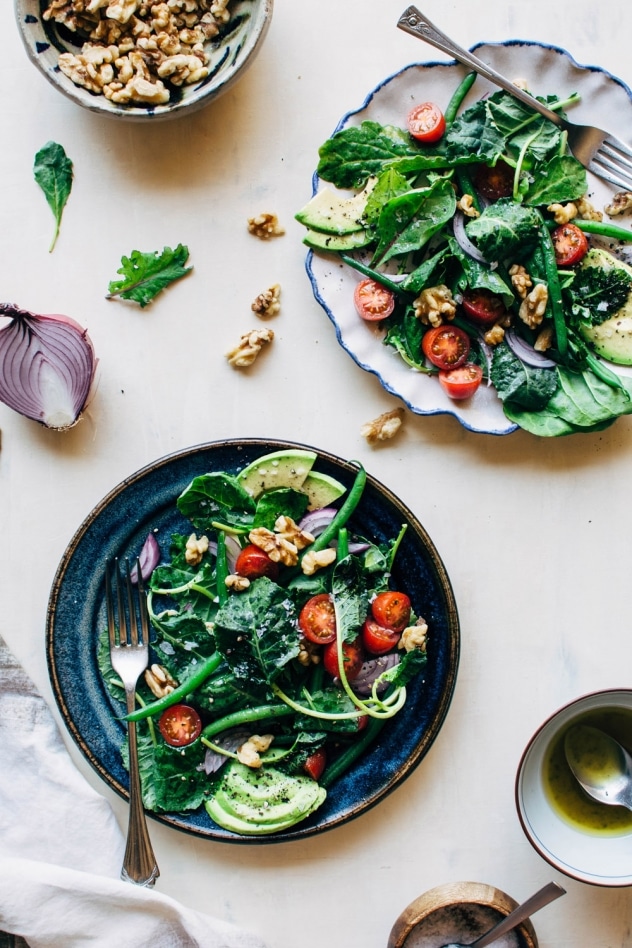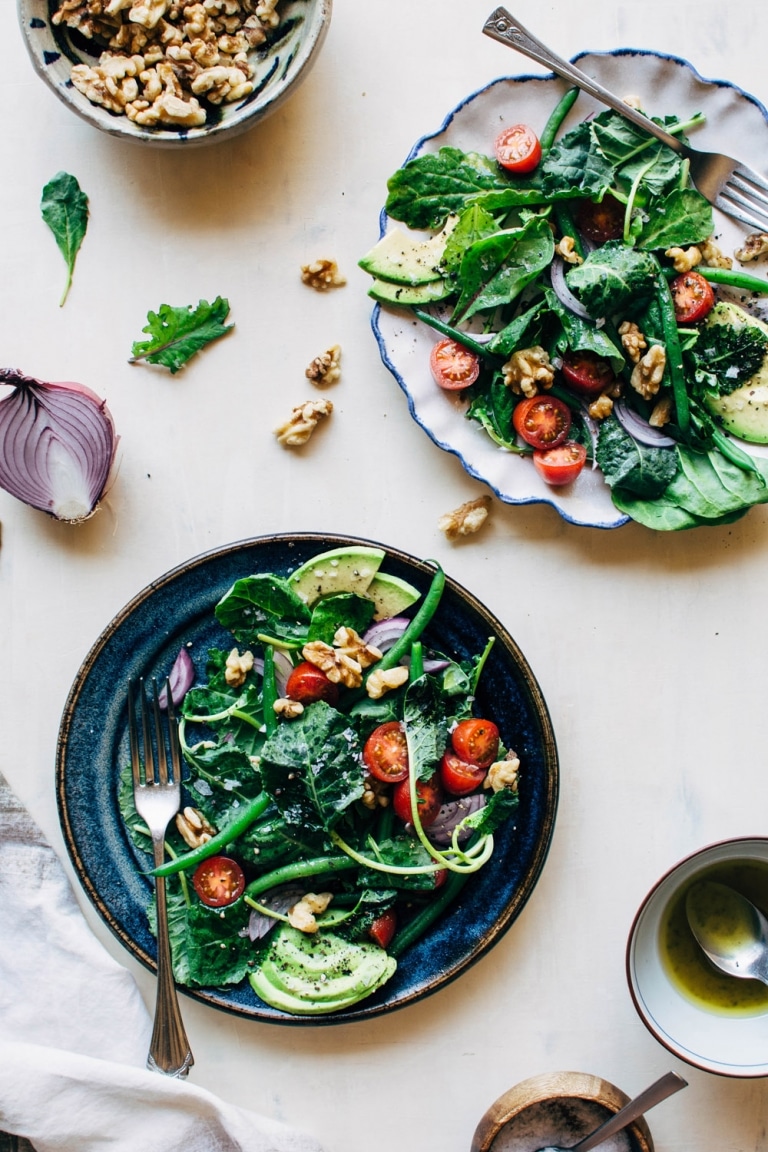 Yes please.
This is the kind of salad that turns non vegetable lovers into believers. I truuuly believe that when the process of growing food is more fully witnessed and understood that there's a greater love and appreciation developed toward the food that fills our plate. How does this essential summer salad fill that space in between? The whole family can venture together to the farmers market to pick out the best looking (or most oddly shaped!) produce, meet the farmer and wash the dirt from the sweetest, most tender, succulent vegetables you've all ever tasted. Or if you do have a garden, you can send the kiddos outside with a giant bowl to collect the beans, greens and tomatoes while you prep the main course.
And what about the important nutritional stuff that will make you feel even better about serving this delicious salad to your family?
Fresh salad greens – When you opt for a darker salad green, you're likely to get higher vitamin and mineral content, so keep that in mind when selecting your green. Baby kale, spinach, arugula and romaine are all excellent choices! They're high in fiber, Vitamin A, C, K, calcium, iron and folate. Choose pretty much anything but ice berg lettuce and you're off to a nutritionally dense start.

Tomatoes – Summer jewels! Although they're high and sugar, and thus carbs, tomatoes offer a unique set of nutritional benefits that make them an important part of our diets. They boast an outstanding array of anti-oxidants, including the infamous Lycopene – a carotenoid pigment that carries a wealth of health benefits including supporting bone health, heart health, eye and brain – more specifically neurological health by protecting healthy brain cells. Lycopene can also be found in watermelon, papaya, red cabbage and grapefruits!

Green beans – Something of a crossover vegetable between a legume and a green vegetable means you'll get the best of both worlds. They are higher in fiber, vitamins and minerals than your typical legume, and lower in carbs, which ultimately results in a more nutrient dense food.

Walnuts – Ohh walnuts, how I could sing your praises for days! Mood boosting, great for expecting mamas, and full of healthy fats – specifically high in omega-3 fatty acids – the same ones you'll find in wild salmon, flax seeds and other wild meats. if your kiddo isn't into regularly consuming wild fish and meat, they are a great way to increase their intake of omega 3s.

Red onions – These can definitely be left on the side for sensitive palates, but consider keeping them around for everyone else for their unique phyto-nutrient content.

Avocado – The glorious, luscious "fruit" that we all know and love for it's creamy texture and healthy fats. But did you know that by pairing them with carotenoid containing fruits and vegetables (virtually every vegetable in this salad) you increase the absorption rate of those carotenoids by two to six times? That makes adding avocado to your salad an even more obvious choice!