Well hey lovely people! How are you DOING?! Hope your week is off to a great start. Some of my favorite players are making an appearance in today's post – turmeric, ginger, cardamom and cinnamon are all a part of this amazing bedtime turmeric golden milk bulletproof latte! And why should you be excited?
because golden milk is The perfect tonifying remedy for winding down at the end of the day.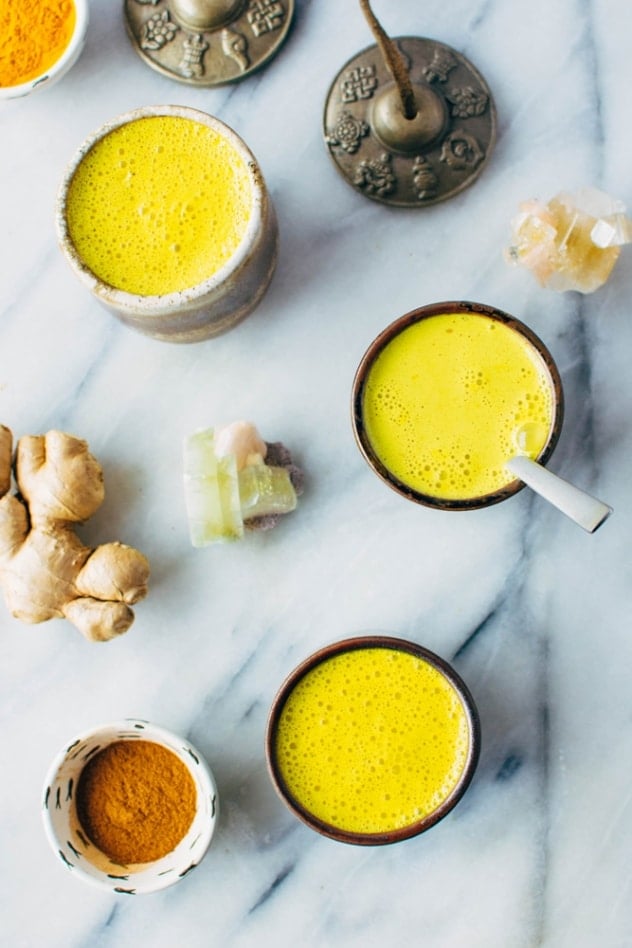 I've been getting home late since starting my new job, like 10 or 11 at night (if I'm lucky!) and while I'm SO grateful to have my days free to work on this site and take care of myself, it's been a little bit harder to wind down and get to sleep once I get home.
Sometimes I stay awake for a little while to bust out some work in the quiet and dark house, as it always tends to be a pretty productive time for me – there's something about that stillness that allows me to focus like no other. But I don't like staying up so late that I'm dragging to get out of bed in the morning. When I fall into that bad habit it always has a way of killing my morning yoga routine. Which if you can relate, tends to start a waterfall cascade of feeling like my day has totally fallen to bits and that I'm in no way living up to my potential. Yikes! that sounds pretty harsh when I write that down here.
I'm working on that whole self compassion thing.
I've known for awhile that golden milk can aid in relaxation, and therefore promote a good night's sleep, so I decided to give it a try. Boosting this turmeric latte with an extra dose of healthy fats was this sort of intuitive thing that I started adding to my own little recipe to have an even easier time falling and staying asleep.. Come to find out after some research, having a little bit of fat before bed isn't just some random thing. It really can help you fall and stay asleep by keeping your tummy is satisfied, and giving you that cozy sleepy feeling you get after finishing an especially satisfying meal.
I love it when my intuition is confirmed by scientific facts! Makes me feel like I'm tuning into my body in the right way. Our bodies have lots of messages to share with us if we create the space to listen!