It's Friday!!! And I'm back with a little 2 part post (it's gonna get a little personal today!) for you that includes a recipe that would be absolutely perfect for your weekend. It is an easy spring veggie egg skillet with bacon and herbed almond pesto, and it's to die for!
I mean doesn't it just say "spring" in the best way with all that green?!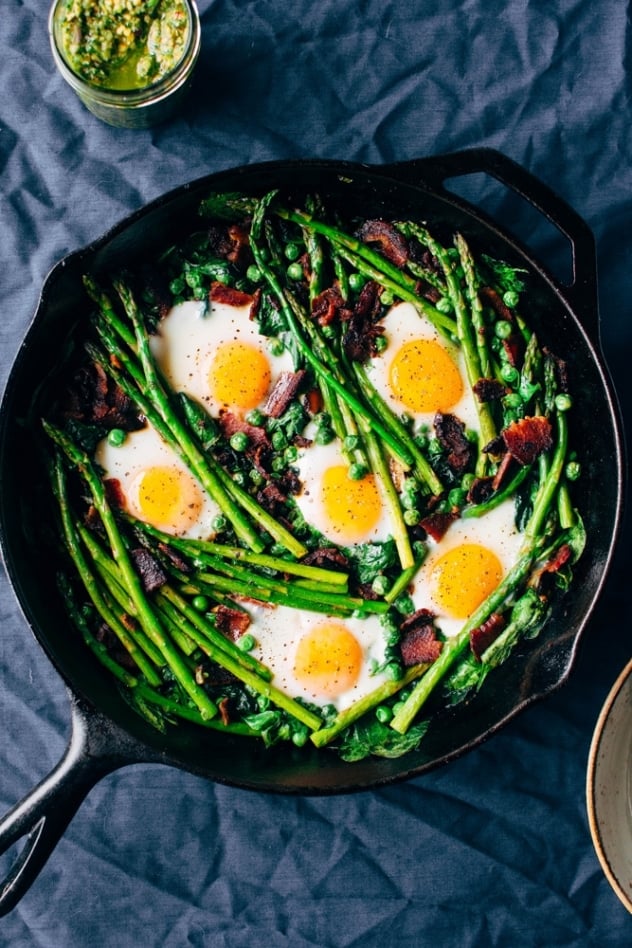 I always feel like a new season breathes new life into my cooking. With all the different ingredients popping up at the market + grocery store, spring time is really the most refreshing of them all. Suddenly everything comes up GREEN! Asparagus, peas and baby spinach are the veggies I chose to include here, but you could easily swap them out for whatever beautiful green vegetables you find at your local spot. And all these green veggies really make my heart happy – I'll bet you're feeling those fresh vibes, too. Even if the weather is not quuuuite there yet (I've got a lot of patience for this city), our hearts and stomachs are, right?!
Green food = life.
And green food in a skillet with EGGS?! And BACON?! Now we're pretty much living the dream.