These olive oil fried eggs with a fresh herb and tomato salad are made with only a few ingredients and are legit a delightful dream of a real food breakfast! Or lunch, or dinner, if you're the kind of person who could eat fried eggs for every meal #totallyme.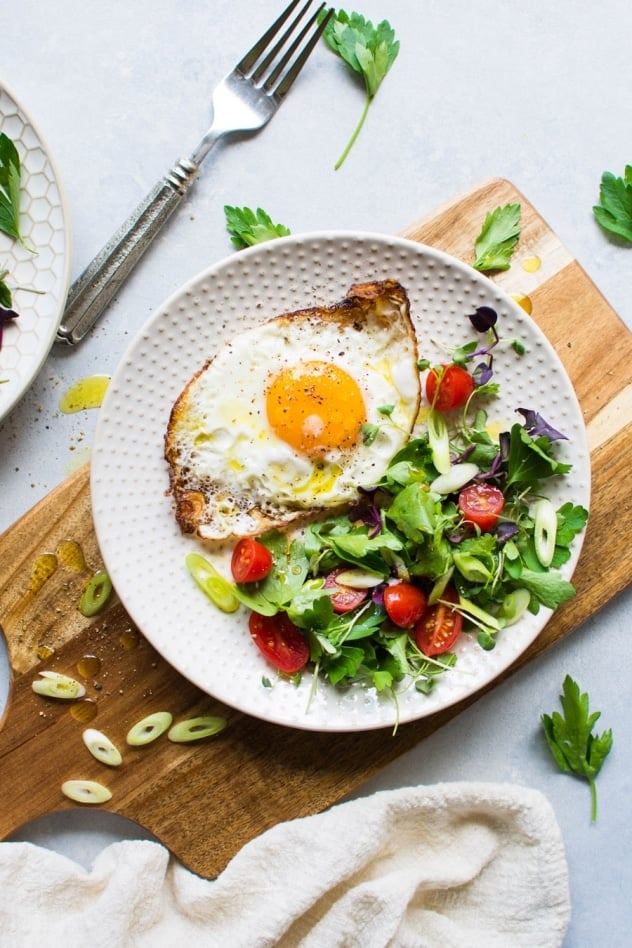 Fried eggs + salad = pretty much every weekend breakfast for me ever.
Okay maybe not every one ever… (case in point – I do sometimes go for pancakes, too). But it is my go-to, tried and true breakfast for whenever I have more time than to make a smoothie or grab a couple of hard boiled eggs.
So every Friday when I stock up my refrigerator for the weekend I alllllways make sure I have eggs and salad ingredients. It's seriously the easiest most versatile breakfast that I am never not in the mood for. It's healthy, quick, and very delicious (<– the most important things).
And while I don't usually like to tell people what to do, I definitely think you guys should give the formula a try this weekend 😉 The beauty of it is in the delicious simplicity. Salad of your favorite seasonal ingredients + fried eggs is an equation that never tastes bad.