Oh man! Feeling out of practice with this whole blog post writing thing. Since starting a ketosis protocol a week and a couple days ago, that has pretty much been my life. Planning, cooking, yoga, and a general turning inwards. Pretty awesome actually. I've also been making and shooting a fair amount of recipes, but the blog post writing (also known as the piece of this project that always takes up the largest chunk of time and energy), has not made the to do list cut. BUUUT! Fluffy grain free pancakes with fresh figs and whipped cream are just too damn good to keep from you guys any longer.
So here we go. It may be a brief post (with maybe a few too many pictures – bc who doesn't love a generous stack of pancakes piled high with all the good things) but it's going to be a good one.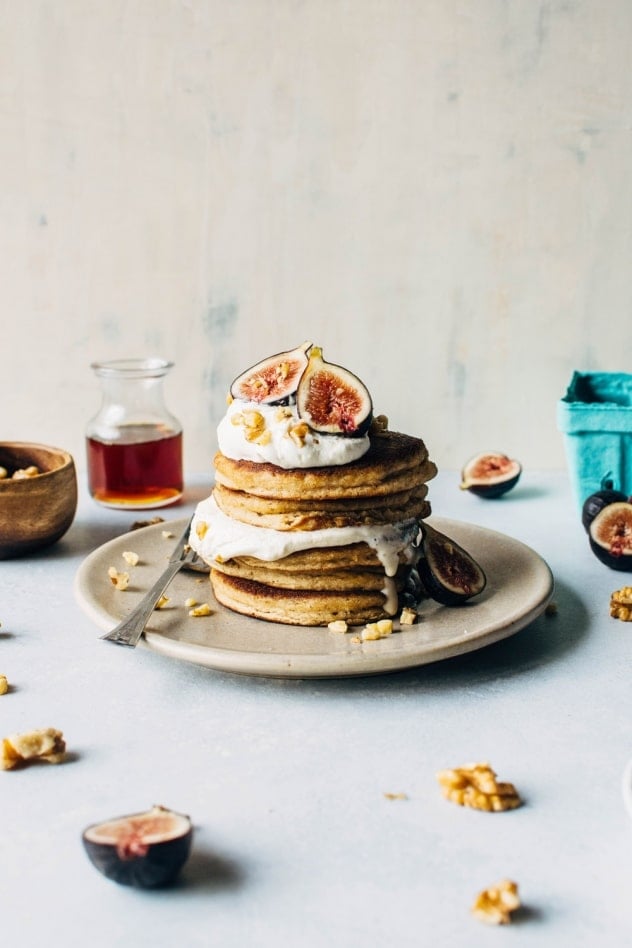 First things first – even though I'm on the ketosis path right now, I do have a fair amount of recipes lined up for you guys that I tested and made BEFORE all this low carb/sugar business started. So no, the blog will not be turned into a total low carb fest (although you can except some amazing keto-friendly recipes coming your way!), and no I'm not cheating on my protocol with these pancakes, but YES, even though I can't eat these pancakes right now you guys SHOULD!
Cuz they're pretty much grain free pancake heaven.
One more note about ketosis before we get way into pancake land…
For those of you are curious, ketosis is:
… the breakdown of fat (both dietary and stored body fat) into ketone bodies to be used as fuel for the body. The preferred source of fuel for the body is typically glucose coming from carbohydrates. A ketosis diet or ketogenic diet forces the body to breakdown fat for fuel rather than glucose. – Ali Miller RD
You can read more on Ali's definition of Ketosis HERE.
By switching your bodies primary fuel source from carbohydrates to fat, one can achieve accelerated weight loss, improved body composition, decreased insulin resistance, and reduced disease markers. I've long been curious about whether or not my body would respond well to this therapeutic way of eating, and so far the benefits have been somewhat mild but noticeable and increasing! Better sleep, more energy, and some steady weight loss.
All good things. I've got a whole 10 1/2 weeks remaining in my protocol and I promise to keep ya posted 😏
Alright I'm starting to feel a little weird about all this ketosis talk in the middle of a pancake recipe post. Let's move on to why we're all really here..
DELICIOUS PANCAKES! Particularly this great big fluffy grain free stack of them.