Shaved Carrot and Parsley Salad {paleo + vegan}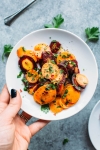 Author:

Nyssa Tanner

Prep Time:

15 minutes

Total Time:

15 minutes

Yield:

6-8 servings
Ingredients
for salad
for dressing
juice of half a lemon 

1 tablespoon white wine vinegar (or another vinegar of choice)

1 tablespoon maple syrup 

1 teaspoon salt 

2 tablespoons olive oil 

1/2 teaspoon chili flakes (optional)
Instructions
Using a mandolin, vegetable peeler, or a sharp knife, shave carrots as thinly as possible. As long as they're organic, I don't usually peel the carrots. Just give them a good scrub before slicing and you'll be good to go. 

Shake together dressing ingredients in a jar and pour over sliced carrots. Toss to coat. Allow to marinate in dressing for about 20 minutes for the best flavor. Stir occasionally to coat. 

Mix in chopped parsley and season with a little more salt and some black pepper if desired.