salted banana date popsicles {paleo + vegan}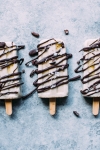 Author:

Nyssa Tanner

Prep Time:

10 minutes

Total Time:

10 minutes

Yield:

10 popsicles
Ingredients
materials needed
10 piece popsicle mold – I use and love this one
10 popsicles sticks
a blender
for the popsicles
1 13.5 oz can full fat coconut cream (Trader Joe's makes this size, or you can buy two smaller more typically sized cans)

1/2 cup water 

2 large ripe bananas, divided – one for popsicle batter, and one sliced into thin slices to add to pops before freezing

4 soft dates, pitted

1 1/2 tsp vanilla extract

1 tbsp maple syrup (optional, to taste)

1/2 tsp sea salt 
for chocolate and sea salt finish
Instructions
for popsicles
Blend all ingredients together in blender except for the 2nd banana, which will be added to the popsicle molds before pouring in the batter. 

Let the popsicle batter settle (to reduce the bubbles) while you add 3-5 slices of banana to each pop mold. Use a popsicle stick to press the thinly sliced bananas to the sides of the molds. 

Pour batter into molds and allow to freeze for about an hour before adding popsicle sticks. 

Freeze for at least 5 hours, but overnight is best. 
for chocolate and sea salt finish
Melt your dark chocolate either in the microwave or over a double boiler and set aside along with some flaky sea salt and cacao nibs.
Remove the popsicles from the molds by briefly running under warm water and place on a parchment lined cookie sheet that has been chilled in the freezer. Drizzle with chocolate and sprinkle with flaky sea salt and cacao nibs.
Return to the freezer on the cookie sheet to let re-harden for about 10 minutes.
Serve! Can be stored in a tupperware in the freezer until ready to eat.
Notes
Before you begin, check your freezer temperature. For the best result (i.e. pops that don't melt before you can even think about drizzling them with chocolate!), change the temperature of your freezer to 0 degrees fahrenheit or below. I set mine to -8 degrees to start with, and then moved it up to -2 after the popsicles were assembled.
For better luck decorating your popsicles before they melt, place a cookie sheet lined with parchment paper in the freezer to chill for at least 10 minutes before laying out popsicles to drizzle with chocolate, etc.