how to make green juice with a blender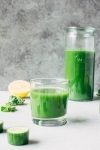 Author:
Prep Time:

10 min

Total Time:

20 min

Yield:

6-8 servings
Ingredients
necessary tools
high speed blender
fine mesh strainer
large bowl that the strainer will fit over
rubber spatula
green juice ingredients
3 large kale leaves

12 mint leaves 

1 small cucumber 

2 stalks celery 

1 lemon, peel cut away 

1 inch fresh ginger 

1 pear

1 green apple 

4 cups water
Instructions
Add all ingredients to a blender. Apples, ginger, celery, pear on the bottom. Cucumber, mint and kale on the top. 

Pour in water.

Blend on high for 1-2 minutes, using the tamper if necessary, until no large pieces remain. 

Set up fine mesh strainer over your large bowl and slowly stir pour the green juice into strainer until almost to the top.
Stir with the rubber spatula, making contact with the strainer, and slowly press liquid out of the solids.
Empty and rinse strainer in between batches of straining liquid from solids.
Pour liquid into a sealable container and store in the refrigerator for 3-5 days.
Notes
One blender full (the amount this recipe is for) makes about 7-8 small servings, about 6 oz each. If you're just making this juice for yourself, you may want to cut the recipe in half so you can enjoy all the juice within a few days. But if you have folks to share it with, definitely make the whole thing!