I'm pretty pumped to be sharing this recipe with you guys. I think it's safe to say we can call it the official jump into THANKSGIVING RECIPE LAND! And is there ever a better way to kick off Thanksgiving planning than with dessert? I don't think so. Especially when it's a no bake pumpkin tart with SALTED COFFEE CARAMEL.
Yes that is a thing and yes you're going to love it.
I mean, take a look for yourself.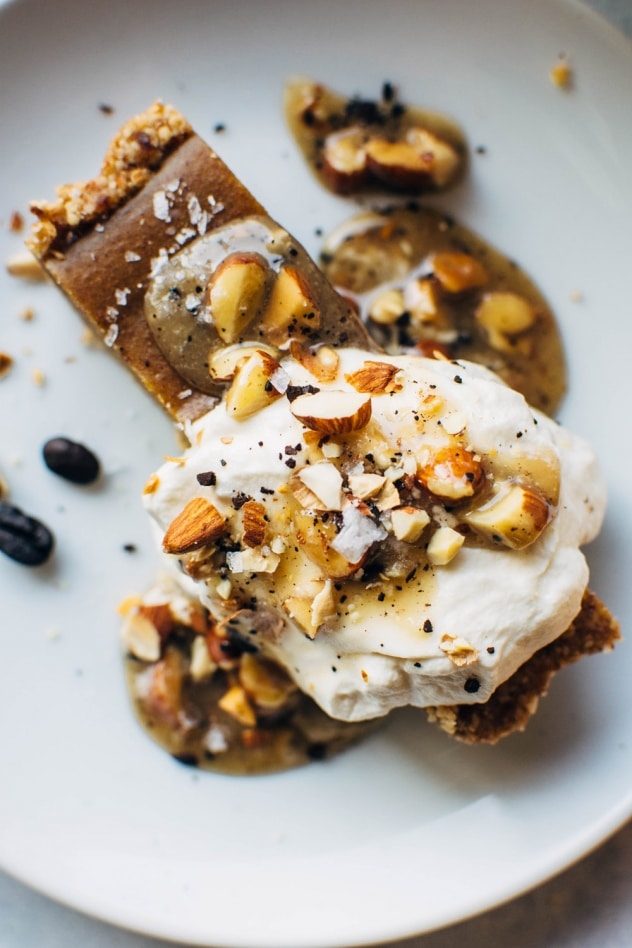 TBH I still haven't started with many of my Thanksgiving recipes for you guys. EEEK! Nothing like waiting till the last minute, ehhh? (I'm pretty good at that 🙄)
But you know what else I'm good at? Working under pressure. So there's that. Don't despair y'all, I'm getting into my element here.
I did my shopping and strategizing yesterday, and will get started with the recipe testing today. SO STAY TUNED! The next few days will be something of a cooking marathon around here, and I just can't wait to share them with ya.
The plan was to knock a few recipes yesterday but of course it was mega stormy and dark outside, so the light situation just wasn't gonna work out. Ohhh winter time (errrr autumn time?? It feels like winter around here) blogging problems, I forgot how you have the power to rule my work day.
If it comes down to it I'll bust out the two artificial lights that have been hiding out under my desk and play around with them. I haven't ever found exactly the right set up with artificial lighting, but maybe this is gonna be the year that I make it work. For some reason I'm sort of intimated by working with them. It's like a whole new set of lighting rules. But figuring it out would certainly help extend the hours during which I can shoot recipes, which would be super awesome in situations like these!
But back to the important stuff – this no bake pumpkin tart with salted coffee caramel!
We just finished the very last piece from the refrigerator and I cannot wait to make it again.
It's like pumpkin pie meets a nutty caramel tart meets your favorite cup of coffee and I literally do not think it could get any better.
Annnnd bonus! It's also paleo and dairy free!
HURRY UP, THANKSGIVING AND GET HERE ALREADY!
'Cause you know we gonna be eating this post-dinner on turkey day.